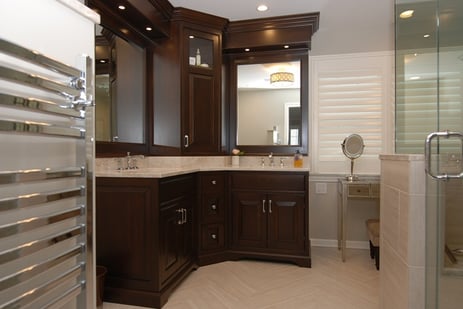 As you sift through the cabinet options for your upcoming kitchen remodel, you'll notice the terms "custom" and "semi-custom" when it comes to some of the top cabinet options. While custom cabinets come with a higher price tag, there's no argument that you get what you pay for when it comes to their construction, quality of installation and durability.
4 Benefits of Chicago Custom Cabinetry
Consider this: those 1960s, hardwood cabinets remaining in some of Chicago suburbs' post-war housing developments may be outdated in looks, but they're proof that quality matters. Until relatively recently, all cabinets were custom or semi-custom, designed, built and installed using professional craftsmanship. Once you know what you're looking for, you can recognize custom cabinets from non-custom options in under a minute.
Custom cabinetry - or a blend of custom- and semi-custom cabinetry – is the way to go – especially if you're interested in investing in a kitchen remodel that will last a lifetime.
Here are some of the benefits of selecting custom cabinetry for your Chicago kitchen design:
They're versatile
The benefit of anything "custom" is that it's designed specifically with you in mind. In the case of cabinets, this can mean building them taller or shorter, adding features that are specific to the ways you use your kitchen, ensuring the storage options are designed and laid out so the things you use the most are the most accessible, and so on.
There are really no restrictions when it comes to the ways your cabinets look, function or what they offer – if you can dream it, we can build it.
Custom cabinets are the highest-quality
They are made from the highest-quality materials – and that includes wood types, screws, hinges, shelving materials and finishes. If you're interested in frameless cabinets, for example, custom is the way to go. Otherwise, lesser-quality materials will make frameless cabinets more prone to door swing issues or cabinets that need constant adjustments because they won't be sturdy enough to support daily wear-and-tear over the long haul.
With quality comes durability – as well as more personalized warranties – both of which benefit your household through the lifetime of your kitchen design.
They are one-of-a-kind
Have a family crest you'd like to install as a carved adornment on your stove hood or a upper-cabinet moulding? Interested in mixing and matching different details with seamless transitions? All of these and more are possible with custom cabinet options - the end result being cabinets that are unique and one-of-a-kind.
They can fit in any space
Historic homes or small apartments often have unusual or non-standard nooks, niches or spaces that are difficult to design around. Custom is the solution. They're the difference between wasted and completely functional space because they're designed to very specific measurements and angles.
If fully-custom are out of your budget, oddly-shaped spaces are ideal for a blend of custom- and semi-custom cabinets. We'll design cabinets specifically to fit niche, and we'll integrate matching, semi-custom cabinets for the more standard kitchen dimensions.
Visit the Kitchens & Baths Unlimited showroom, or contact us to schedule a consultation. We're masters of Chicago cabinet design.