Before you ever determine which door and drawer styles you want for your Chicago kitchen cabinet design, take a step back and think about different door and drawer types and how each one is best suited for your kitchen layout.
For example, glass doors can make a kitchen feel more spacious and break up the monotony of wall-to-wall cabinetry. Corner drawers increase storage options in tricky corner spaces and slider or flip up doors are ideal for smaller kitchens or tight spaces where a traditional swing-out door will be awkward or get in the way.
Which 6 Door & Drawer Types Work Best For Your Chicago Kitchen Cabinet Design?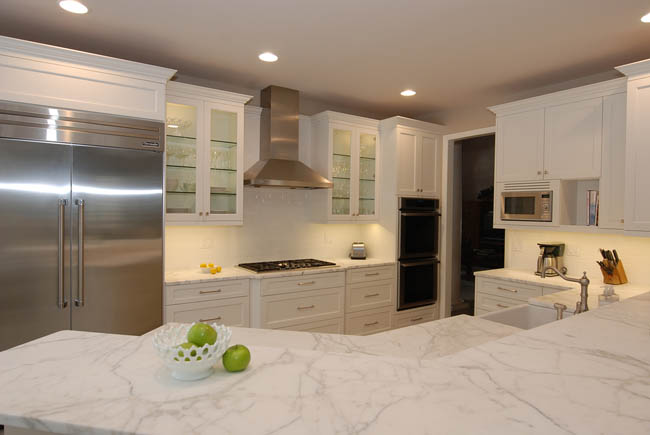 Here are 6 door and drawer ideas that will enhance the function and livability in your newly remodeled kitchen space.
Glass doors. If we had our choice, glass cabinet doors would be featured in any kitchen we design. They add visual interest, letting light flow between a kitchen and living space, allowing a peek into a cabinet so you gain a pop of color, or accents via the etched or paned glass panels themselves. If potential cabinet disarray is a cause for concern, opt for frosted glass - like the type used for

these contemporary cabinets framed with stainless steel

.


Corner drawers. Corners can present a couple of problems (opportunities, really!) in a kitchen. The drawers meet at an angle and, if it's near an appliance or sink, these drawers are often small and relatively useless. To this challenge, we offer the solution of corner drawers, which allow corner pockets to be plenty usable, and also eliminate the often cavernous and inaccessible cabinet recesses that typically constitute the kitchen corners.


Slider doors. Sliding cabinet doors are as desirable in the kitchen as they are on the exterior of a home. They allow you to open the doors wider, making it easier to store that super-size electric skillet or cumbersome serving platters. At the same time, they don't require any air space for a door to "swing out," which is also desirable in corner locations, close to the fridge or in small kitchen spaces. They can even be used for

top secret storage or hidden spice racks

.


Flip-up doors. Flip-up doors are another bonus for small kitchen designs, with doors that conveniently raise up with a push of a button or a nudge on the door hardware. They are also great for hiding appliances, like the microwave, from view.


Pocket doors. Similar to a slider or flip-up doors, pocket doors are another way to gain full access to your cabinet shelf interior without needing a door that swings out. We like them when a frequently-used cabinet is adjacent to a wall that would typically limit the cabinet door's swing-ability.


Customized door & drawer spaces. We're always happy to help our clients design custom doors and drawers that suit their needs. Chicago kitchen cabinet designs can be used to store specialty kitchen tools or to hold baskets that encourage air flow around root veggies and fruit.
Work with the team at Kitchens & Baths Unlimited and enjoy a cabinet door design that is thoughtfully and conscientiously created to suit your specific kitchen space as well as your household's needs.