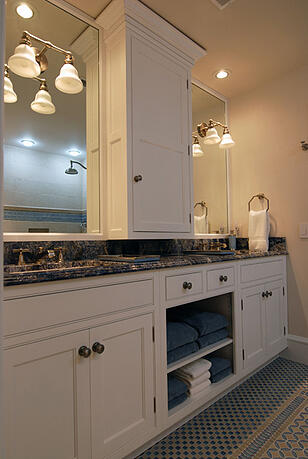 The hall-bath is like an "everything" bathroom. In many cases it's the kid's bathroom, the guest bathroom, the neighborhood-kids-who-are-playing-at-your-house's bathroom, and the bathroom grandparents use the most when they come to stay.
Family-Friendly Ideas For a Chicago Bathroom Remodel
Thus, the hall bath has to accommodate a wide range of needs.
It should be stylish.
It should accommodate heavy wear-and-tear.
It should be easy to clean and maintain.
The following list will help to make sure your Chicago bathroom remodel is all of those things.
Use Non-Slip Tiles. If anyone will be showering or bathing in the bathroom, you should install non-slip tiles. This will also keep the bathroom safe after little ones have been in their energetically washing their hands or brushing their teeth. It only takes a spot of water on shiny, granite floor tiles to cause a disastrous fall. There are plenty of attractive, high-end, slip-resistant tiles to choose from.


Double Vanities. You aren't the only one who likes the idea of a his-and-hers bathroom. Visiting couples will appreciate the touch as well. Most importantly, it will help to mitigate the amount of fussing and arguing you hear from the kids during their hectic morning and bedtime routines.


Lots of Storage Drawers. With the right cabinet and bathroom storage design, your hall bathroom can also serve as the household's linen cabinet (allowing you to knock out the hall linen cabinet to expand the hall bathroom...) as well as the storage bay for the family's toiletries.


Pull-Out Step at Foot of Cabinet. Tired of dragging the stepping stool back-and-forth so little ones can access the sink? More importantly, are you tired of tripping on it? Design custom bathroom cabinets with a built-in, pull-out step stool - disguised with a drawer panel. The stair is there when they need it and invisible when you don't.


Kid-Proof Countertop. There are stylish ways to accomplish just about anything, but this one is simple. Quartz countertops are not only kid-proof (virtually impossible to chip or crack), they're also non-porous so they won't stain, etch, or grow mold. Quartz is incredibly easy to clean and maintain - no sealing required.


Storage For Toys. When the bathroom is predominantly used by kids, a tub full of bath toys is the norm. However, designating storage spaces for the toys makes the space more user-friendly - and visually presentable - when the bathroom is used by others.


Build a Tub-Side Seat. Bathing little ones can wreak havoc on your back and knees. Think about building a tub-side seat. This will be handy for you, it will also come in handy for elders or injured household members when they need to ease into the bath. With the right design, the chair can even fold up and be disguised as a cabinet when not in use.
Would you like to implement a family-friendly, hall bath design that satisfies your style cravings? Schedule a consultation with Kitchens & Baths Unlimited to discuss a Chicago bathroom remodel that meets everyone's needs.