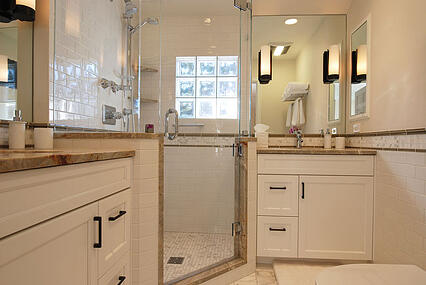 If you have a smaller bathroom to remodel, one of your largest priorities should be optimizing the space available to make your bathroom as spacious and efficient as possible. The following suggestions can be used to un-cramp your bathroom, provide plenty of storage space, and design a bathroom space that is light, airy, and open.
9 Tips For Creating Spaciousness in Your Chicago Bathroom Remodeling Project
Keep it clean and recess your medicine cabinet. One reason why modern design is so popular is that clean lines and minimal clutter can make the smallest of spaces seem open and "enough". Take a cue from modern design and get rid of surface obstructions like the medicine cabinet. Your medicine cabinet can be easily recessed between wall studs so it doesn't impede room space.


Get rid of the soffits. Soffits are another, often unnecessary, impediment into bathroom space. Talk to your contractor about getting rid of the soffits so you gain more height and room space.


Tear out the linen closet. Those linen cabinet walls are taking up valuable space. Those extra walls will also make the ceiling appear lower and more cramped. Instead, install a linen cabinet which can be built into the space and can be extended up to the ceiling, finishing off with a beautiful decorative moulding. This will add the illusion of height while simultaneously opening up your bathroom space.


Choose light and bright colors. The lighter and brighter your colors, the more open and spacious your bathroom will feel. White is a popular color for bathrooms because is reflects light and yields a clean, neat appearance. Choosing the "right" white may be trickier than you think. This article from Elle Decor can get you started.


Efficient lighting design. Your lighting design has a tremendous effect on your living spaces. Too many shadows and your bathroom will appear smaller than it is. If lighting is too harsh, the bathroom will have an uncomfortable - and unflattering - glare. Work with a designer to use a combination of lighting sources so you can control lighting intensity and ambiance.


Install a skylight or enlarge a window. Natural light will help to enhance your light, bright, and airy look. Plus, it's energy efficient. Install a skylight or enlarge bathroom windows when possible.


Use a large framed mirror. Mirrors have always been one of interior designs greatest tools when it comes to making small spaces appear larger.


Add drawers to cabinetry. Customize your cabinetry to minimize countertop clutter. Just as kitchen cabinets can be amended with pull out shelves and customized drawers, your bathroom cabinets should have plenty of customized drawer space as well as shelves and drawers designed specifically for your bathroom items and grooming tools.


Use recessed niches in showers. You can gain valuable inches of space in your shower or bath tub area by using recessed niches rather than shelves that extend into your bath/shower space.
Ready to begin planning your Chicago bathroom remodeling project? Visit Kitchens & Baths Unlimited.