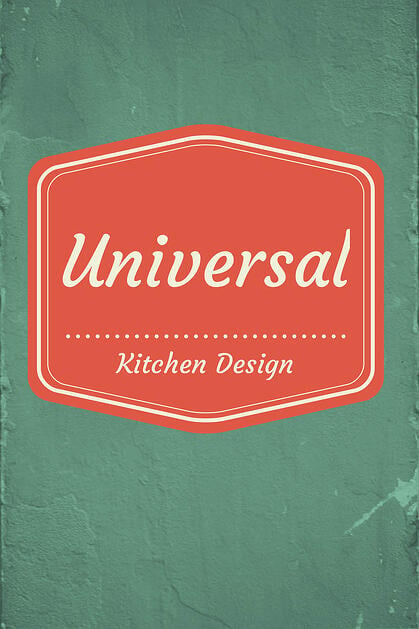 Universal design, also called accessible design, is becoming quite the buzzword in the design-build industry these days. What started as a part of the Americans with Disabilities Act has blossomed into a design tenet that accommodates all. A universal design ensures anyone who enters your home will feel comfortable and can navigate it with ease. Plus, an accessible home appeals to a larger population of the resale market, which can increase your home's value.
Not only will a universal kitchen design help you to age-in-place, it makes it easier to transition from an unexpected injury, illness or surgery back to your normal routine. Here are some of the design considerations to make your kitchen as safe, comfortable and accessible as possible.
8 Universal Design Elements for the Kitchen
The layout. The better flow your kitchen has, the more efficient it will be. An accessible kitchen design takes this a step further adding extra space to maneuver between the kitchen island and countertops, through doorways and around eating areas. Ideally you want between 42-58-inches of clearance.


Chair room. Speaking of kitchen islands and cabinets, a universal design is one that thinks ahead to wheelchair and walker potential. This means leaving a recessed niche under the sink and stovetop. You may want to consider a recessed niche in the island as well.


Pull-out storage. Nobody wants to be crouched down in awkward positions navigating the nether regions of a corner cabinet. Pull-out storage means you open the cabinet door and pull the contents out to you - more convenient for anyone. It also enhances your ability to keep cabinets organized.


Cabinet hardware. As long as we're on the subject of cabinets, use large drawer handles and D-shaped drawer pulls for an easier grip.


Varying counter heights. Consider adding lower countertop sections to a perimeter countertop or island. This will allow people of different heights to help out in the kitchen. While the idea is to accommodate a wheelchair, or someone who needs to be seated for food prep, your kids and grandkids will love it.


Appliances. There are certain considerations for your appliancesas well:

Refrigerators: Side-by-side models are easier to access for people in wheelchairs.
Wall-mounted ovens: These can be installed at any height so you can customize it to your family's needs.
Dishwashers. Consider elevating your dishwasher a little higher than normal for easier loading and unloading.
Faucets. Use single lever or touch-sensitive faucets to make them easier to turn on and off.



Flooring. You want to use a comfortable, slip-resistant flooring to reduce the chances of accidents. Cork and tiles that meet the ADA's non-slip certification are recommended. Also, use larger, low-pile area rugs that aren't as likely to bunch up against wheelchair wheels, walkers, crutches, etc.


Visibility. To make your kitchen a safer place for visual impairment, pay careful attention to your lighting plan and consider contrasting tiles around the perimeter of the kitchen.
Interested in adding universal kitchen design principles to your home? Contact Kitchens & Baths Unlimited.