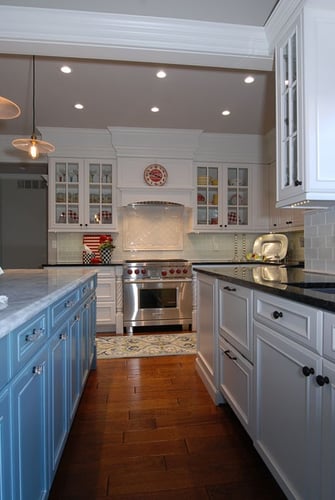 Are you one of those people who alternates between wanting a highly modern design, all sleek and streamlined, and a traditional design that reminds you of your favorite grandma's kitchen? Welcome to the majority.
Most people don't fit into one specific design genre or another, so it takes a bit of time and preference patterns to figure out what their kitchen design style is. We promise that with a little time and exploration, you'll dial in your style preferences before you know it.
Get a Grip on Your Design Style Before Hiring a Chicago Kitchen Remodeler
The more you know – or collect – about your kitchen design preferences, the simpler it will be to move forward with your Chicago kitchen remodeler.
And, if you don't have it all figured out before your first consultation, that's fine. Just bring your design ideas with you, and your kitchen design-build team will get a good idea of what you like – and what you don't. Then, they'll get started on a personalized proposals for your kitchen and household.
Use free, online tools to get started
By and large, Houzz is the most user-friendly, kitchen design tool out there. However, other websites such as HGTV, BHG, ELLE Decor, and others have a wealth of resources too. The thing we like about Houzz is that you can start a Houzz Ideabook, which becomes an instant repository for any pictures you like or appreciated from their galleries.
Go hog wild at first, without editing or tailoring your preferences. It's like a brainstorm of kitchen design "likes." Once you have a nice collection going, you can go into your files before meeting with prospective Chicago kitchen designers, whittling the photos down to your favorites, and you'll eventually get a sense of your style.
Organize photos as best you can
There are a myriad of things you'll consider as you design your kitchen:
Layout preferences
Cabinet preferences
Countertops preferences
Appliance preferences
Island designs
Seating/dining options
Accent preferences
The way your kitchen is used (one chef or two? Are there young children? How about pets or not? Cooking-heavy or mostly microwaving?)
Try to organize your photos into categories or within similar themes, making it easier to narrate what you liked or appreciated about the items you save.
Of course, a random jumble of "just because" photos are helpful too. They often illuminate undercurrents of a client's design preferences. For example, do you like an eclectic or more matched look? Did rustic elements seem to turn up a bit in your photos or were things more contemporary and new looking? Is there a material you seem to gravitated towards such as wood, metal, stone, glass, etc. Is there a pattern in your color preferences you hadn't noticed up until now?
Schedule Consultations with Experienced Chicago Kitchen Design & Build Teams
If you don't know what your design style is after all your hard work collecting "I love it!" images of kitchens, don't fret!
Now it's time to schedule consultations with prospective Chicago kitchen design-build teams. At those appointments, you'll be able to go through your style books together, and they'll have your design style. down pretty quick, at which points they can shed light on your design style and preferences.
Ready to work with one of the most hardworking, experienced and high-quality contractors in Chicagoland? Contact us here at Kitchens & Baths Unlimited to schedule a consultation and learn more about your kitchen design style.