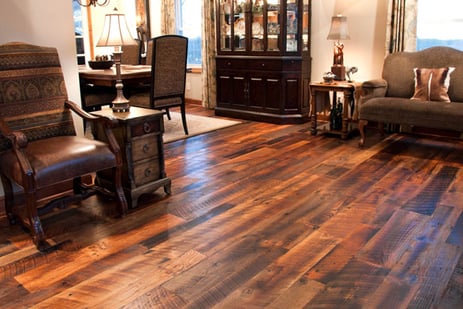 If you've been searching flooring options for a Chicago home remodeling project, you've probably come across the term "reclaimed wood" more than once. Reclaimed wood is a highly sought-after finishing project for several reasons, not the least of which is its unique beauty.
Reclaimed Wood is a Beautiful Environmentally-Friendly Flooring Option
It comes from a variety of sources. Typically, it's salvaged from old barns, homes that are being demolished or deconstructed wood barrels or pallets. There are also stores of wood that were sunk in the Great Lakes while being transported along trade routes between Canada, the northeast and England.
Regardless of the source, the lumber is typically salvaged, cleaned up and nails removed. For flooring, the lumber should also be kiln dried (which is the cleanest way to de-pest the wood sans chemicals) and re-milled to make it more usable.
These woods are unique because they were grown and harvested in completely natural environments where they had to compete for resources. Their quality is unrivaled by contemporary wood, which is almost always new growth as the result of healthy foresting regulations.
Some of the benefit of using reclaimed lumber for flooring in a Chicago home remodeling project include:
It's environmentally-friendly. In many ways, using reclaimed lumber is like giving a tree a third life, or perhaps a fourth. This saves a living tree from being cut down. It also saves perfectly good wood from ending up in a landfill, or as garden mulch, as the result of thoughtless demolition.


It has unique character. Unlike the sustainably harvested woods of today, reclaimed lumber was originally milled from old-growth timber. These trees grew for hundreds of years, allowing them to develop wood grain patterns and knots that are unable to be achieved in just a few decades of growth.


It's extremely durable. When a tree grows for hundreds of years, it expands and contracts day after day, season after season and these changes in cellular structure make for very strong and durable fibers. The reclaimed wood you select has existed for centuries and with proper care and maintenance, it will be around for another century and more.
This durability makes most re-claimed lumber a good choice for flooring installations but there are a few things you need to watch out for.
Source. Only work with legitimate companies who can tell you about the history of the wood and who have carefully inspected it and have prepared it to the standards required for high-quality flooring installation.
Toxins. The wood may have been treated with toxins, either originally or to de-pest/preserve it, so if you're designing a sustainable project, verify which products have been used to treat it.
Pricing. Prices vary, depending on the amount of work that needs to be done to prepare the wood for your floors, but know that certain woods will be pricier than new-growth woods because of the work that goes into salvaging it.