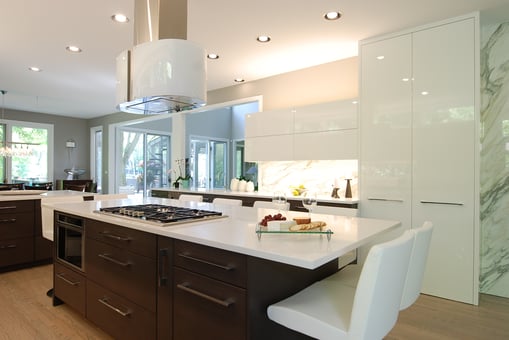 During the first phase of a Chicago kitchen design, you'll define – or identify – your style preference. For some, this is a no-brainer. For others, we recommend reading, Finding Your Kitchen Design Style, which has tips on how to determine whether you have a preferred style or whether you tend to be more eclectic and like to mix it up a bit.
If you determine you prefer contemporary design features, begin focusing on the features that create the contemporary look you're drawn to.
Elements of Contemporary Design
It's important to point out there that the terms "contemporary" and "modern" are not the same. Modern designs emerged in Europe pre-WWII, and continued through the mid-century era. The word "contemporary" means "in-the-now," so what's contemporary in 2019 will likely differ from what's considered contemporary in 2119.
Click Here to learn more about the differences between modern and contemporary design features. Now – onto the elements that define a contemporary design.
Highly functional
We would argue that every kitchen should be highly-functional, but the call to minimalism that contemporary kitchens are known for puts functionality at the foreground of the design. Not a space is wasted, and the user of a contemporary kitchen is interested in a streamlined kitchen experience – as well as the look.
Clean lines and streamlined look
The idea of clean lines, as opposed to decorative-only accents, began during the modern design era - and has continued into the 21st century. Really, it's part of a continuing minimalist movement, where more is less in every sense of the word.
You're aiming for simple, streamlined countertop edges and cabinet faces, uncluttered countertop surfaces (provided by customized cabinet storage), and accents that typically follow horizontal or parallel lines, or that are geometric in form.
We have a perfect example of a contemporary Chicago kitchen remodel featured on our homepage, so check that out to see if it resonates with you.
Shiny surfaces
Most contemporary kitchens boast shiny surfaces as a part of that clean, streamlined look. Often, this effect is created via glossy cabinet finishes, stainless steel appliances, and using glass or reflective tiles in the backsplash. The most popular countertop finishes – granite and quartz – also contribute to that "freshly cleaned and polished" aesthetic - as do metallic accents and finishes.
Geometric shapes and forms
We mentioned straight lines and geometric forms before, but they're worth a separate mention. In order to balance the linear look of vertical lines, contemporary kitchen designs incorporate other shapes and angles. Therefore, you'll notice circles, diamonds or parallelograms, triangles, and so on. The varying geometric shapes add a textural element without being too relief-focused, which minimizes maintenance requirements.
Shapes may appear in the backsplash or in patterns on window treatments or lighting fixtures. The lighting fixtures themselves may be the geometric counterpoint to the lines in cabinets, countertops and flooring. A clean-line, arched hood vent also makes a geometric contrast.
Natural elements
Lest you think that contemporary kitchens are all about steel and glass…
Most contemporary design enthusiasts want to add some warmth to a design style that can be overly-sleek and cool for a room that's supposed to be the heart of the home. Bringing natural elements into the space – stone work, a contrasting bank of naturally-finished wood cabinets, woven window treatments or seating upholstery, natural stone countertops, a live plant or two, art that depicts natural scenes or elements, large picture windows – all work to bring Mother Nature into the space.
Full Overlay Cabinets
In the effort to streamline things, and simplify cleaning and general maintenance, most contemporary kitchens have full overlay or frameless cabinet doors. This keeps things flush and minimizes exposed edges or wasted cabinet face space. You may also see more integration of appliances to continued the blended look.
If you're not exactly sure whether contemporary is exactly your style, a consultation with an experienced Chicago kitchen design-build team will help you work things out. Visit the showroom at Kitchens & Baths Unlimited and work with a team that specializes in personalized kitchen designs.