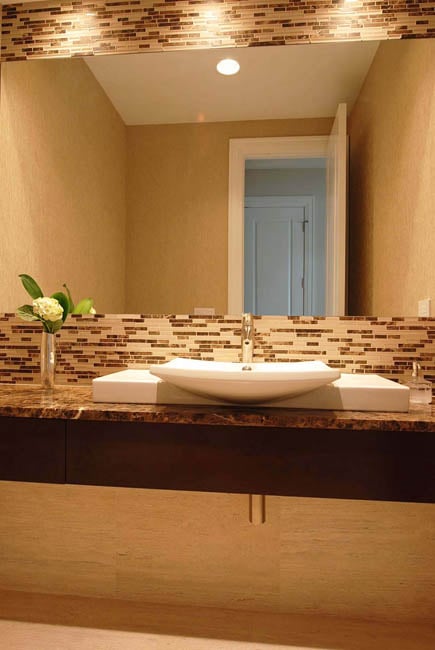 Powder rooms may be small but that doesn't mean they have to be boring. In fact, we think their small size begs to be remodeled with more daring or bold designs than you would ever consider implementing in the hall or master bathrooms.
If you're planning an upcoming powder room remodel, don't forget the importance of texture. Even more conservative Chicago powder room and bathroom remodeling projects will benefit from adding texture, which is often the difference between boring and interesting.
Here are some suggestions for adding texture to your bathroom remodel in Chicago.
The walls
There are several ways to add texture to your walls. Some of them are literal, others are painting techniques that give the illusion of texture, even if there isn't really something to feel.
Plastering techniques. This might be a good time to add an extra layer of plaster. Plastering is an art form so hire drywall contractors who are experienced and well-versed in various plastering techniques that can add quite a bit of three-dimensional interest - think mission or adobe-style wall plaster.


Plaster and paint. Combining plaster and paint techniques also yields beautiful results. For example, a little texturing compound, paint and a glaze can yield a faux stone wall look.


Painting techniques. There are a myriad of painting techniques that replicate textured fabrics or add interest to the walls. From sponging to combing, these techniques are a relatively quick and easy to way to add texture to walls.


Tile work. Choosing textured tile, patterns that create the illusion of texture, using tiles with different depth and textured tiles also add visual interest in your powder or bathroom remodeling project.
The Vanity and Sink
Consider adding a unique vanity or sink. For example, a wood or concrete slab vanity adds texture but the open space below helps the bathroom to feel more spacious. Top that with a vessel sink (pictured above) which adds another layer of 3-D interest, and you're set. Using a traditional vanity with a vessel sink is another way to add texture because vessel sinks come is such a wide range of colors, patterns, and finishes.
Mirrors
Keep an eye out for interesting mirrors that include texture in the framework. You can look for something exotic or more ornate, or you can find a simple, embossed mirror frame that still adds a little extra texture to a traditionally smooth and uniform surface.
Flooring
Your bathroom remodel can include texture via natural stone flooring such as slate. It looks beautiful on the floors and walls of a powder room and can create a non-slip surface for hall and master baths.
Accessories
Finally, your accessories can also be a place where you can add dimension to a powder room design. Something as simple as a vase of flowers will do the trick, as will a gorgeous piece of art or 3-D wall art hung above the commode.
Contact Kitchens & Baths Unlimited to design a Chicago bathroom remodel that incorporates color, style and texture.