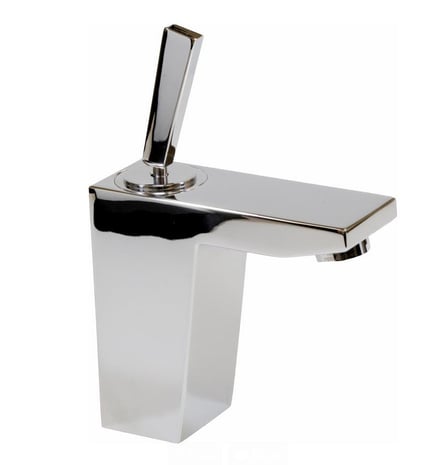 Prior to brainstorming Chicago bathroom remodeling ideas, a bathroom sink is simply a hole in a vanity that collects water so it can drain through the plumbing, and the faucets you use while out and about are worth a cursory notice once in a while. Then, when it's time for you to select the sink and faucets for your bathroom remodel (insert spotlight and dramatic background music...), all of a sudden selecting your bathroom's plumbing fixtures is one of the most important decisions you have ever made in your life.
Chicago Bathroom Remodeling Ideas for Selecting Attractive and Sensible Plumbing Fixtures
Choosing the plumbing fixtures for your bathroom can be a bit tricky because there is a lot out there on the market, and it's easy to pick something that looks stunning in a kitchen and bathroom showroom but doesn't look as great at home without a meticulous cleaning regimen.
So, here are some of the things we recommend you think about when choosing the sinks and faucets for your bathroom remodel.
Maintenance first. Hopefully, if you've chosen right, you won't be remodeling your bathroom for a long time to come - if ever again. Thus, you want to consider what kind of maintenance is required to maintain your new bathroom fixtures. For example, vessel sinks are very popular, but they sit on top of the counter, which means you have to be faithful about cleaning the bottom side of the vessel and around the bottom edge, where counter debris accumulates. For this reason, we advise installing them in hall or powder baths that are used less frequently.
Similarly, many of the faucets designed for traditional bathroom motifs boast lot of detail, which includes ridges and edges that can catch grime. If you are someone who prefers a lower-maintenance bathroom design, you may be better off with a slightly less detailed faucet so its smooth contours are easy to wipe down.
Knobs or levers. Here's another place where you may find that function trumps style. If you have younger children in the home or are planning to age in place, lever faucets are the way to go as they are the easiest to turn on and off. If you want a more stylized look, then you may want to choose a faucet with knobs that suit your bathroom style, whether it be traditional or modern.
Mounting options. The majority of sinks are undermount, which means the countertop edge will be on top of the sink, making it easy to swipe spills and countertop debris into the sink when cleaning. Wall-mounted bathroom faucets are becoming more popular because they keep water, soap and debris flushed away from where they're mounted, providing a cleaner aesthetic. Top mounted sinks and counter-mounted faucets look great but can be debris-traps if you aren't careful.
Finish options. To select faucet finishes, you'll want to consider two things: your taste and the rest of your design. Faucet finishes should blend with your countertops, tile work and color scheme.
Typically brushed finishes are better at hiding water spots and toothpaste remnants than shiny versions so keep that in mind as well.

Would you like assistance narrowing the options for your Chicago bathroom remodel? Schedule a consultation with Kitchens & Baths Unlimited. Sometimes a professional opinion is just what you need.
Image credit: Houzz.com