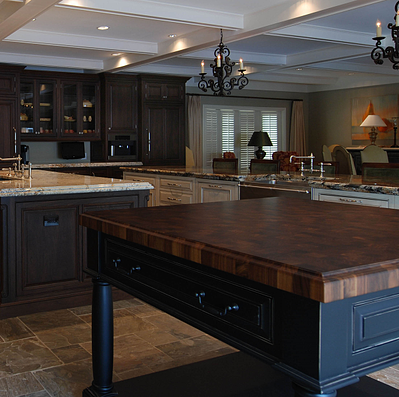 For a while there, granite and natural stone countertops were all the rage and with good reason. They are both durable, sanitary, and aesthetically pleasing kitchen finishes. However, we're noticing that butcher block countertops are making a comeback. Beautiful wood never goes completely out of style, which is one reason why butcher block countertops have been so popular throughout the ages. They work well in both traditional and modern kitchen designs and will last a lifetime with proper care and maintenance.
Here are some things for you to consider if you're interested in using wood as a countertop or island surface option for an upcoming remodel or new construction project.
Considerations Of Butcher Block Countertops

Durability
We have performed remodels and renovations in old farmhouses with wooden counter or island tops that are well over 100 years old. They are definitely durable. For those who love to cook and bake, butcher blocks are a favorite choice because you can cut, dice, and roll out dough without having to haul out a cutting board or other surface protector.
Butcher block countertops are usually made from rock maple, walnut, teak, or other hardwoods, which means they can take a beating and will stand up well to moisture as long as they are sealed correctly.
Sanitation
Wood got a bad rap when it comes to sanitation. Well-meaning granite, Corian, laminate, and other alternative countertop manufacturers boasted about how much more sanitary their products were compared with more porous surfaces such as wood. In fact, Popular Mechanics cites a 1993 study done by the University of Wisconsin that found 99.9% of bacteria introduced to wood cutting boards die within 3 minutes of exposure.
The microbiologists also determined that wood cutting boards were actually more sanitary than their plastic counterparts. As long as you take reasonable precautions and clean your butcher block countertops as per the manufacturer's instructions, your wood countertops will be equally as sanitary as other finish options.
Maintenance
Maintenance is one area where wood cabinets will require more a little more time and energy. In order to keep them clean, looking like new, and to protect them from moisture and deterioration, you will need to maintain them on a regular basis. Ideally, your butcher block countertops should be oiled and sealed with a natural mineral oil about every four to six weeks. However, it is an easy process and can be done within a matter of minutes. That being said, your typical granite or natural stone countertop only needs to be sealed about twice per year.
Also, you will need to be careful if the wood will be adjacent to sinks, ovens, and stove tops as it is vulnerable to moisture damage, burning and scorching.
Sustainability
Butcher block countertops get exceptional ratings by the Green Home Guide. This is especially true when homeowners and their contractors use re-claimed wood or untreated wood that is harvested from forests that are certified by the Forest Stewardship Council (FSC).
If you are considering using natural butcher block countertops for your new kitchen design, contact the design experts at Kitchens & Baths Unlimited, Inc. We can show you examples and discuss whether or not they will be a good option for your kitchen design and function.