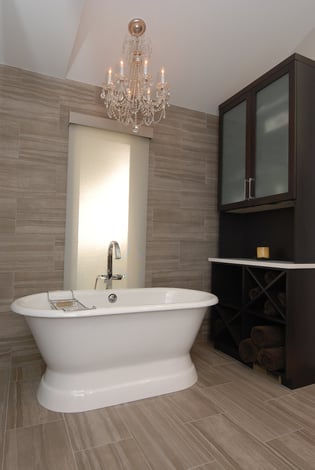 Some of the most recent Chicago master bathroom options transform bathrooms into home retreat spaces. This is especially important for busy parents living in homes with open floor plans; the "formal living room" or a den may not be an option anymore when you need to get away from the genearl household hubbub or the constant drone of the TV.
Luxury Features that Transform Your Bathroom Into a Private Retreat
With that in mind, here are some of the features to consider when designing a master bathroom you'll never want to leave.
Heated floors
Heated floors are a welcome addition to any bathroom remodel. As long as you're changing the flooring, we highly recommend considering heated floors. They don't cost much to install, and can actually improve energy efficiency in your home since they're efficient, consistent heat means less heated air required to warm your bathroom.
Plus, it's so soothing to step onto warmed tile floors when using the bathroom in the middle of the night or wee hours of the morning, when stepping out of a steamy shower or after a long relaxing soak in the bath.
A steam shower
Similarly, steam showers are not exorbitant in price, but add priceless value to a luxury shower design. While they provide the bonus of an in-home sauna experience, with aromatherapy and lighting options to boot, steam showers also allow your family a place to go when colds or allergies are upsetting the respiratory tracts or to soothe a musculoskeletal injury.
Have a shower you already love? Read, How to Convert Your Shower Into a Steam Shower, so you can enjoy the same benefits in your existing shower space.
Consider high-tech bathroom features
Thought the bathroom might be the one area immune to technological innovations? Think again.
Today's high-tech bathrooms include a myriad of features, gadgets and accessories, including:
Super toilets
TV mirrors
Smart Mirrors with touch "screens"
Touch-free, motion sensitive plumbing fixtures
And more
Read, 5 High-Tech Gadgets for Your Chicago Bathroom Remodel, to learn more about these and other techie bathroom options.
Low-maintenance bathroom finishes
Who wants to spend extra time in a bathroom that is a reminder of how it needs to be cleaned, repaired or maintained? If you'd rather spend your time soaking, steaming and relaxing than cleaning, repairing grout lines or sealing granite countertops – we recommend our post dedicated to design ideas for easier cleaning maintenance. Spending a little time researching low- to no-maintenance finishes beforehand will save you countless hours of precious time down the road.
Incredible shower and plumbing features
The options for shower design are all over the map, including indoor showers that take advantage of more retro- or industrial outdoor shower fixture designs automated plumbing.
Check out, Bath Design: 4 Luxury Bathroom Features You May Not Have Thought of Before, to learn more about automated shower features, designer plumbing fixtures and luxury shower door options.
Features you'll never have to leave
Designing a bathroom you'll never want to leave may include designing a bathroom you never have to leave as the result of aging, mobility issues or a future illness or health condition. Increasingly, bathroom designers get requests from younger and middle-age homebuyers interested in designing accessible bathrooms and living spaces. This is largely prompted by witnessing the struggle of aging family members, wanting to prevent the same outcome for themselves.
Are you interested in making the most of your upcoming Chicago bathroom remodel, including all the luxurious extras? Schedule a consultation with the design team here at Kitchens & Baths Unlimited. We've designed and built high-end bathrooms and kitchens for Chicagoland homeowners for the past several decades.