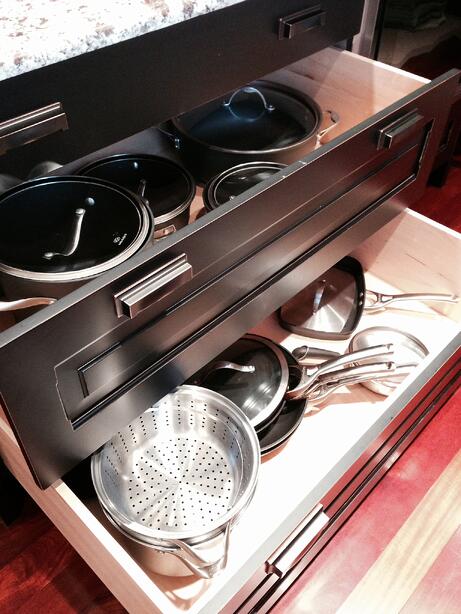 Now that you've got the bigger selections out of the way - like cabinets, countertops and appliances - it's time to start thinking about the "little" design ideas that make a big impact on your Chicago kitchen remodel. In fact, these so called "little" things are very likely to become your favorite features because they're all about enhancing your kitchen's function.
6 Great "Little" Design Ideas That Will Enhance Your Chicago Kitchen Remodel
Over-sized kitchen drawers. Pull-out drawers have almost made the traditional shelf-style cabinet space obsolete. They are so much more convenient for everyone when you can gently slide what you need right to you, rather than crouching down, or reaching way up, in order to access kitchen storage areas. Over-sized

pull-out drawers are especially handy

for storing larger pots and pans as well as those kitchen appliances that you use relatively often but don't want hogging up counter space, like the blender, food processor, bread maker, etc.


Outlets that have USB ports. The gadgets and gizmos craze is here to stay and it's changing how we interact with our living spaces. Perhaps one of the most prevalent needs for individuals and families are charging stations that prevent clutter on table, counter and desktop surfaces. In addition to charging, these convenient additions to your outlets allow you to use your gadgets to access recipes or your favorite shows while you work.


Soft-close hinges and drawer guides. These are a must-have. With this simple add-on to your cabinets and drawers you will never hear another slammed door or drawer, significantly decreasing kitchen noise. You can also consider using touch-activated cabinet door openers that allow cabinet doors to open up and out, rather than being hinged from the sides. You close them by pushing a button. An example is the

SERVO-DRIVE for AVENTOS

by Blum. They are desirable in any kitchen, especially those with a modern design or that are

designed with accessibility in mind

.


Under-cabinet lighting. This is like a 3-in-1 bonus. Under-cabinet lighting can enhance your existing task lighting, can serve as a night- or early morning-light, to avoid the shock of harsh overhead lighting, and under-cabinet lights also create a nice ambiance for after-hours socializing.


Dimmers on the light switches. We're a bit confused as to why dimmers aren't an automatic feature for every light in the house. They put the glow-control right in your hands and are a major energy saver.


Built-in soap dispenser.You'll read and hear mixed opinions on this one but we are fans for several reasons. The most important is that built-in soap dispensers cut down on kitchen clutter and the accumulation of soap scum that gathers on the bottle as well as underneath it on your sink rim and/or countertop.
Of course, the "little extras" are really all about you, your family, your lifestyle and the role your kitchen has in your life. Visit Kitchens & Baths Unlimited to begin envisioning the upgrades and options that will personalize your Chicago kitchen remodel.