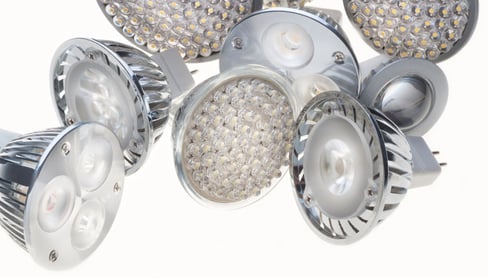 Lighting design is essential for any Chicago home remodeling project. The most stylish interior design in the world will fall flat, or look harsh or garish, if lighting hasn't been taken into consideration. You can read more on the specifics of lighting design in, How to Choose the Right Lighting For Your Chicago Kitchen Remodel, and, Chicago Bathroom Remodeling: How to Create the Right Lighting Design.
While aesthetics, ambiance, safety and function are the priority, energy efficiency is the secondary focus. This is especially true for homeowners interested in completing a sustainable home remodel. As a result, lighting manufacturers and fixture designers are placing increased emphasis on LED lights.
LED Lights: The Wave of the Future For Chicago Home Remodeling
There are several reasons why LED lights are a favorite as opposed to their energy-saving, compact florescent (CFL) counterparts:
They're Versatile. LED lights can pack a powerful punch in a small fixture. Today's home lighting uses a predominance of recessed cans, smaller directional lights - both recessed and track - undercabinet and toekick lighting, etc. LED fixtures provide the minimalist profile required by these applications while still providing sufficient illumination for safety and task lighting.
They're Efficient. To achieve the same quantity of light as a 60 watt incandescent bulb, a CFL requires 14 watts while an LED requires only 10. Similarly, the average lifespan of an incandescent bulb is 1,200 hours; a CFL is 8,000 hours; LEDs last an average of 25,000 hours. That's a tremendous difference in terms of both lifetime replacement and energy savings.
More Attractive Light Quality. While the energy savings gained by CFL is lovely, everyone agrees that the quality of light leaves a bit to be desired. While CFL manufacturers are steadily improving on this, the reality remains: CFLs do not provide the same, warm light that incandescent can. On the flip side, LEDs have a warmer glow than CFLs. Optimize the warmth of an LED glow by paying attention to its color rendering index (CRI). The higher the CRI, the warmer the glow. The CRI of incandescents is typically 100, the closest LEDs get to that (for now) is about 90.
LEDs & Fixture Creativity
One of the reasons lighting and home designers get so excited about LEDs is that they have made it possible to enjoy more artistic and creative lighting fixtures. This trend is enjoyed by homeowners, for whom LED lights have made it possible to enjoy swanky pendants and chandeliers as well as discreet undercabinet, toekick vanity lights, or display cabinet lighting.
The use of dimmers increases their appeal, since recessed or directional fixtures installed for task lighting can be transformed into softer, ambient lights with a flick of a dimmer switch. Lighted vanity mirrors are also a favorite application for LED technology, as are illuminated glass panels, which can be installed in rooms that lack windows for a faux-window effect.
Talk to the pros at Kitchen & Baths Unlimited to discuss the potential for LED lights in your Chicago home remodeling project.