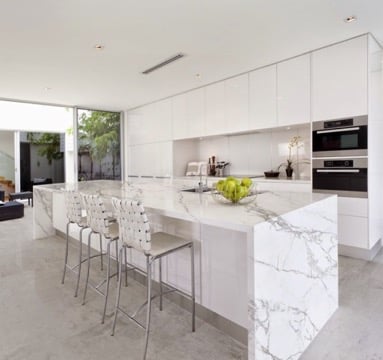 Chicago homeowners who aren't interested in natural stone countertops are inevitably drawn to porcelain options for kitchen and bath remodels. This minimally-porous, highly customizable countertop surface has many of the benefits of natural stone or quartz countertops.
Pros of a Porcelain Countertop in Your Chicago Kitchen or Bath Remodel
Here are some of the pros and cons to porcelain countertops.
It's available in both tile and slab form
Like granite, porcelain is available in both tile and slab form. Unlike granite, however, homeowners benefit from color/pattern consistency. Since patterns and colors are fabricated, you can select a slab you love and find an exact pattern or shade match for the backsplash.
Durability
Durability is essential in a busy household. Who has time for breaks, chips or whole-slab/tile replacements? Porcelain is considered the most durable tile option on the market (it's 30% stronger than granite, for example) and is now available in customizable slab form as well.
With its resistance to chipping, cracking and etching – porcelain is a smart option for those who love to cook, as well as for master, family or hall bathrooms that experience their fair share of wear and tear.
They don't stain
Porcelain tires are almost non-porous, which is a big difference when compared with their ceramic counterparts. This means porcelain has an extremely low absorption rate, virtually impervious to staining and moisture absorption. The latter is especially beneficial in bathroom applications where exposure to moisture is a constant.
It's aesthetically versatile
Porcelain tiles and slabs are artist fodder for virtually every color, pattern and wood/stone replica imaginable. There are porcelain tiles that look just like hardwood (grains and all, and that includes texture) as well as beautiful "marble" and natural stone patterns.
We repeat: porcelain slabs are a smart and attractive alternative to marble for heavy-use areas.
The disadvantages of porcelain are
Now for the porcelain cons...
It's susceptible to dramatic, blunt impact
Like granite, porcelain tiles and slabs are susceptible to blunt impact. If you drop a heavy pan from an upper-cabinet or overhead hook – it can chip or crack the slab. That being said – it takes a pretty powerful blow to damage it. While it's listed as a technical "con" it's not any more of a threat than most other countertop alternatives.
Fewer edge options
If you're thinking about a porcelain slab, edge details are typically limited to flat polished or mitred – more fancy options are usually not available. If things like bullnose or ogee edges are important to you – this is worth considering.
It could affect resale value
While porcelain slabs and stylized tiles are gaining popularity and are highly desired by some, they're not yet considered the "luxury finish" that granite and quartz are. This could potentially affect resale value or a potential buyer's desire to purchase.
The design professionals at Kitchens & Baths Unlimited know the ins-and-outs of every countertop option available. Drop by our showroom, or schedule a consultation, and we'll be happy to weigh the pros and cons with you as you determine the best surface for your Chicago kitchen and bathroom remodels.
Photo Credit: MoD Design Guru