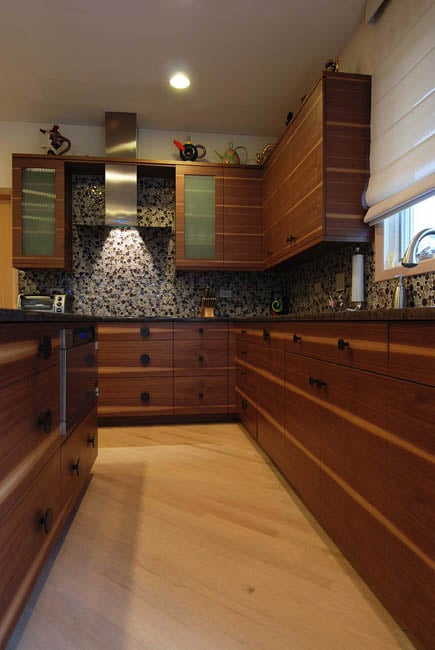 Your Chicago kitchen design ideas can take you over the moon and back again. It's true that your possibilities are endless, but it's also true that your kitchen is the heart of the home - and will be a major focal point when it's time to sell.
If you go so over-the-top with unique, permanent features, without taking the long-view of how those features will look in five, ten or fifteen years, you can end up with a kitchen that is completely outdated well before your high-end finishes are anywhere near the end of their lifespan.
Keep Chicago Kitchen Design Ideas Balanced Between Personal and Timeless
The best way to enjoy your kitchen for all of its personalized amenities is to make sure your more permanent features fall into the "timeless" category, and that the most unique aspects of your kitchen design can be easily changed, upgraded or eliminated when/if the time comes that you have to sell your home.
Let's take a look at some of the recent Chicago-area kitchen remodels completed by Kitchens & Baths Unlimited to see examples of how our clients managed to infuse their own unique tastes without overpowering the space, keeping their kitchens appealing to future buyers.
Personal Colors Gone Right. Color is one of the most personal choices of all. If you opt to employ vivid colors based on Pantone's current color palette, or paint all of your cabinets a bright tangerine you loved in a House Beautiful spread, you risk the chance future buyers won't be able to see the bones of your kitchen underneath. This transitional kitchen leans towards the traditional and the owner wanted to implement green accents. That shade of green is beautiful - but might not appeal to everyone. By using it on the island only, and adding a decorative splash above the stove top, a non-green fan will still appreciate a gorgeous kitchen, noting that the green accents can be easily changed down the road.
Minimized Flair. If you do have a burning desire to stray from neutral palates, try keeping your unique flair to a manageable space. These homeowners love bright bold colors. However, they were wise to make the large majority of the backsplash a lighter, more neutral pattern. That allowed them to have free license for the smaller section of backsplash above the sink. Anyone who doesn't like the colorful mosaic tile work has a much smaller section to replace - a project that isn't nearly as daunting as a full kitchen backsplash re-do.
Smart Luxury Amenity Placement. Believe it or not, your prized wine storage may not be everyone's cup of tea, er - glass of wine. For many, it's just a superfluous "extra" taking up space in an otherwise attractive and functional kitchen. Consider the placement of your luxury amenities ahead of time, thinking about how they might be converted into usable space if they're removed by future buyers. In this case, we see the makings of stylish and convenient cookbook storage or beautiful display shelves.
Do your tastes tend towards the eclectic? Schedule a consulation with us here at Kitchens & Baths Unlimited. We'll find the right balance between your unique style taste and timeless Chicago kitchen design ideas so your home maintains its resale value.