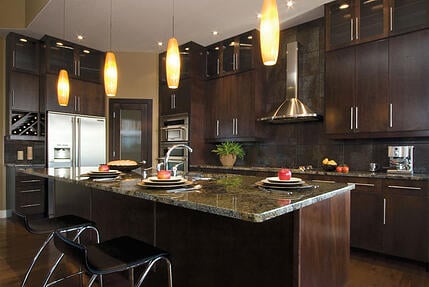 Choosing a backsplash is not as easy as you would think. There are several decisions to make:
Do you want it to blend or contrast with your countertops and cabinets?
Do you have a little room for artistic flair, or are you most comfortable with something on the simple side?
Is your backsplash serving as a transition between countertop and cabinetry?
What colors best suite your multi-colored countertop?
Once you answer these questions, you still have fairly wide selection of tile, natural stone and manufactured options to choose from.
While it isn't important that your backsplash specifically match your countertop, it is critical that a kitchen backsplash blends with the overall kitchen design.
Choose a Backsplash That Best Suits Your Chicago Kitchen Design
Here are a few tips for choosing a backsplash that matches - or not - with your countertops, but looks great in your kitchen either way.
Keep it the same. If you are worried about a non-matching backsplash, keep it the same. Gorgeous countertop materials will look equally gorgeous on the wall above it. If there isn't enough material to do a full backsplash, or your budget doesn't accommodate it, a professional kitchen designer will help you choose a tile backsplash that pulls a color from a patterned, slab countertop so the look remains consistent.
Make it pop a little. If you like the idea of a backsplash that stands out, but worry that too much "pop" will become outdated, use a backsplash material that blends with your countertops. Then, you can add a little mosaic work or occasional accent pieces for a subtle affect. You can also focus artistic attentions on the larger wall areas - above the stovetop or sink - where a monochromatic look might be bland.
Make it pop a lot. If you're all about pop, then matching is much less relevant. You can go all out, using a colorful glass or tile as the kitchen's primary color accent. Just keep in mind that it's a color you'll want to live with for a while. If going bold in color seems a bit daring, go bold in texture instead. Ask your kitchen designer to show you glass or mirrored tiles, metallic tiles and other texturally-rich backsplash options that can still blend with a timeless or more monochromatic color scheme.
Use it as a transition. If you have decided to use contrasting countertop and cabinet colors in order to provide visual interest, your backsplash is the ideal way to "marry" them. This is often done by using a lighter colored tile that brings out a countertop color, interspersed with colors that highlight the cabinetry. You can also work in the reverse of that, choosing a main tile that brings out a shade in your cabinet finish, and implementing tile accents that complement the countertop.
Are you having a difficult time deciding on just the right backsplash for your Chicago kitchen design? Bring your ideas to Kitchens & Baths Unlimited and we'll be happy to help you out.