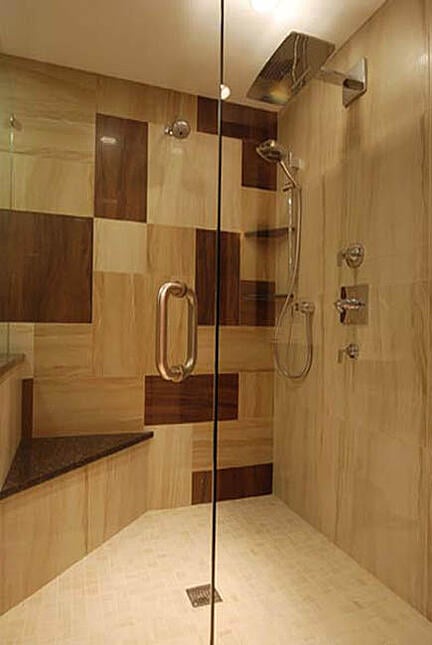 There are several scenarios where it makes sense to convert your tub into a shower. A glass-enclosed and beautifully tiled shower space can increase resale value, is optimal for those who desire to age-in-place, and can help to make smaller bathrooms feel more spacious. Here are reasons why converting a tub into a shower can make great sense for your bathroom remodeling project.
Reasons to Convert Your Tub Into a Shower When Planning a Chicago Bathroom Remodel
Increase your resale value. Spa-like showers are becoming very popular. Removing your standard tub and upgrading it to a frameless glass enclosed shower, or a steam shower, will make a positive impression on future buyers.
Make the bathroom accessible. If your target market includes seniors or empty-nesters, an accessible bathroom design is a good idea. Tubs are much more dangerous to get in and out of and contribute to slip-and-fall accidents. An accessible shower, with slip-resistant tiles, grab bars and upscale tile work and fixtures will be very appealing to the older sector of the real estate market as well as families with teenagers.
Tip: If you opt for a doorless shower, consider adding radiant floor heating to your bathroom which will keep the bathroom more comfortable and dries surrounding floor tiles more quickly.
Increase the feeling of spaciousness. Consider that a standard tub measures 30" x 60" or 32" x 60". They take up quite a bit of space and opaque finishes block the view of the bottom portion of your bathroom, in most cases up to 15-inches of vertical space or more. Then there are soffits, which take up another 12-inches. These dimensions shrink your bathroom. When you convert that space into a walk-in shower with a frameless glass shower enclosure, your bathroom will look and feel more open.
You can add a seat. All that extra space means you'll have room to include a corner seat or bench, which can be an added shower luxury. In addition to being another accessible design feature, seats pair well with a hand-held shower head. High-end hand held shower heads come with an array of features so you can enjoy both a shower and a hot water massage.
Beautify your bathroom space. Bathrooms can be a bit boring if they aren't designed with aesthetics in mind. Most standard tubs have basic tile work or bland fiberglass inserts. Once the standard options have been replaced with beautiful tile or natural stone work, your bathroom will be decidedly more attractive.
Make it a full bathroom makeover. Talk to Chicago bathroom remodeling experts about using this opportunity for a full bathroom makeover. The cost of converting your standard tub into a shower area is approximately $10K to $15K. This pays for the demolition and removal of debris, tiling to the ceiling, enclosure, recessed lighting, new plumbing fixtures and the labor. For a little more, you can enjoy a full bathroom renovation.
Contact Kitchens & Baths Unlimited before planning your Chicago bathroom remodeling project.