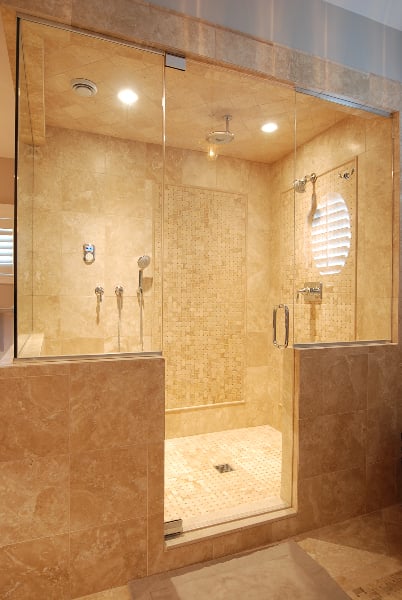 When it comes to your bathroom remodeling project, you may already have your heart set on the elegant and sometimes rustic charm of natural stone for both the tiles and countertops. Have you, however, considered marble or limestone? Both types of stone are wonderful options, though each one certainly has its pros and cons.
Pros and Cons of Marble
Forget rustic; marble is a regal, beautiful, and timeless choice for any bathroom remodel. For many homeowners, the instant elegance achieved by the use of marble in bathrooms is utterly unrivaled. The traditional, nearly pure white with stunning grey veining is the most obvious choice, but
marble can also come in a great variety of colors
. Homeowners can choose between pale blues, greys, or pinks, or even take a dramatic leap and go with a black or brown marble.
Marble has a few drawbacks
; these can, however, be easy enough to work with, depending on how much effort you want to invest in the upkeep of your bathroom. For instance, marble is more susceptible to staining than many other types of stone, but this can be combated with certain preventative measures. By treating marble with a silicone sealer and regularly maintaining this treatment, you can ensure beautiful, pristine marble for years to come. Marble is also one of the more expensive types of stone out there. For homeowners who want the elegance of marble, however, marble is unmatched in taste and elegance.
Pros and Cons of Limestone
Limestone is a wonderful option
for a less formal interior for a bathroom. The use of a limestone floor creates a beautifully rustic, earthy aesthetic and feel. Additionally, limestone is a very cool stone, which makes it perfect for warm summers. When properly cared for, limestone can last a lifetime for any bathroom.
The aesthetic of limestone is such that you can achieve a wonderfully primitive appeal, due to the fact that fossils are often preserved in this type of stone. Unlike the shininess of marble, limestone is usually completed with a matte finish, but like marble, limestone does come in a number of colors. Pure limestone is white or cream-colored, but many minerals can change the color to a deep red or yellow, or even gray or black.
Limestone's drawbacks, like marble's, include the absolute necessity for cleaning and regular maintenance. This is because limestone is highly absorbent, which makes it prone to staining, so special cleaning liquids must be used. Like marble, limestone must be regularly sealed.