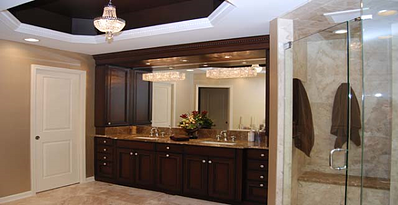 Planning a bathroom remodel this year? Make it a point to strike just the right balance between current design trends and timeless upgrades you will be able to enjoy for years to come. While paint colors and decorative accents can be easily changed on a whim, make sure your more cost- and labor-intensive upgrades will stand the test of time.
Five 2014 bathroom remodeling trends that will never go out of style.
The in-home spa. If you are remodeling your master bathroom, envision it as a soothing, relaxing and upscale spa. Muted tones, spacious design tricks, and a blend of finishes, including wood, stone, and glass will create a spa-like ambiance to take your stress away.


Steam shower. As long as you are opting for the spa idea, transform your shower into a steam shower. It is like a shower and sauna in one. Make sure to implement comfortable bench seating so you can sit, lean back or lay down to relax, providing enough space couples or other family members to fit comfortably. Consider using glass or other colorful tiles to create a lovely pattern or mosaic that will enhance the relaxing steam room experience.


Radiant heating. Here is a trend that will soon be a standard feature. Radiant floor heating is an incredibly energy-efficient way to heat your home, especially when paired with ceramic or natural stone tiles, which help to hold in the heat. If you are only remodeling the bathroom, opt for an electric system, which is much easier to install. If you are building a new home, or remodeling a significant portion of your home, then talk to your contractor about a hydronic system, which is more labor-intensive to install but is significantly more energy-efficient for larger areas.


Smart lighting. Traditionally, bathrooms have a set of lights over the vanity and perhaps a recessed can or two above the bath and shower locations. Modern bathroom remodeling trends have upped the lighting plan ante, including decorative sconces and chandeliers. Always include dimmer switches so you have ultimate control of the light intensity. Also, consider the addition of a skylight, if possible, which will flood your bathroom with clean, beautiful natural light during the daytime.


Eco-friendly anything. Bathroom remodeling trends continue to migrate in eco-friendly directions. Many of the trendiest products on the market are eco-friendly by nature, including bamboo flooring, quartz countertops, and reclaimed lumber. Glass tiles are often made from post-consumer recycled content. Seek paints and cabinet finishes that are low-VOC - in addition to helping the environment, you'll also improve your home's indoor air quality. While florescent bulbs are efficient, they also contain mercury, which is toxic. Instead, consider LED-compatible fixtures and enjoy even greater energy savings.
Contact the bathroom remodeling professionals at Kitchens & Baths Unlimited, Inc. We'll make sure your design is congruent with current bathroom remodeling trends, while integrating timeless upgrades and fixtures.