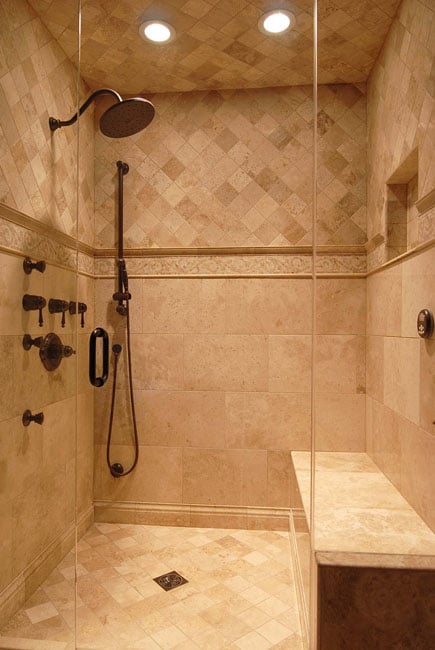 When it comes to your brand new shower, there are a number of considerations that you can take, especially if you are choosing to implement a new steam shower. Steam shower units allow for a number of wonderful luxurious and comforting additions, such as mood lighting, rain showers, aromatherapy, and music player hookups. Here are some of the most important design considerations for your new unit.
Steam Shower Units: Size and Spacing
When it comes to your new unit, you definitely want to make absolutely certain that your steam shower is large enough for you to move around, but not so large that the steam does not distribute well. Consider how many people will be using the shower at once, as well. Additionally, you should ensure that the bench in the steam shower is a good size as well as comfortable – at least 12 inches deep, to be precise.
There are other aspects of steam shower units that should also be carefully contemplated. For example, there needs to be an enclosure at the top of the unit to keep steam inside – after all, a steam shower is useless if the steam can escape. A glass enclosure to the ceiling does the trick for most
steam shower units
. When it comes to your bathroom remodel and what parts of your bathroom can and should get wet, tiled ceiling that will both help keep the steam inside and will also abstain from mildewing is an absolute must.
Steam Shower Units: Other Considerations
There are a number of
other considerations for steam shower units
. For example, even though a bathroom is designed to get wet, a steam shower can create excess moisture. As such, there needs to be a way to effectively get rid of moisture, which means purchasing a good quality exhaust fan. Additionally, you should be able to control the shower from both the inside and the outside. Also, it is important to consider where the steam comes from: you do not want it too close to your feet or to the seating area because it can be hot, sometimes uncomfortably so.
Installing an alternative type of showerhead is something that could be a wonderful addition to your steam shower. A rainfall showerhead is a nice touch. These types of showerheads actually mimic the sensation of rain falling, a much softer kind of showering experience than the standard higher pressure showerhead. Alternately, or in addition to the rain head, consider a handheld showerhead, which will reach the seat so that you can experience it while seated.
Finally, steam shower units can also include a
music, lighting or sound system that provides a truly luxurious experience overall
.