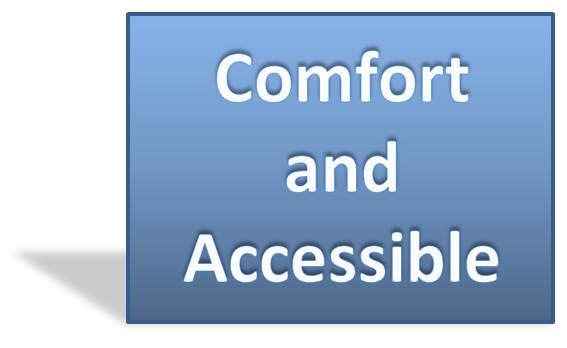 At Kitchens & Baths Unlimited, we have been remodeling bathrooms in Chicago and the Chicago Metro Area for two full generations. Throughout our many years of doing this work, we have come to realize that everyone tackles a bathroom remodeling project for different reasons. Many people remodel their bathrooms because their older parents are moving in; others remodel because their kids are grown and are going away to college; perhaps there is even the need to remodel due to a flood or other such problem that requires a bathroom redo. No matter the issue at hand, everyone who undertakes a bathroom remodeling project starts out on the same page. Here are some of the options to take into consideration if accessibility and extra comfort needs to be considered.
Accessibility Concerns When Remodeling the Bathroom
There are a number of accouterments that could be excellent add-ons to bathrooms that already function quite well. For example, comfort height toilets are slightly higher than the standard and require less moving to access. Similarly, for those who have disability concerns and need grab bars in the shower or by the toilet, there are a number of ways that bathroom remodeling can help this situation as well.
You can even install decorative grab bars
so that the person in question does not need to feel like he or she is in the hospital. Similarly, non-slip tile, or tile with extra texture can help make sure that slips and falls are minimized.
Shower Additions for Bathroom Remodels
If you have the space in your shower,
installing a shower seat is an excellent
idea for anyone. As far as showers go, when it comes to remodeling the bathroom in the Chicagoland area, most people undertaking such a project prefer showers over bathtubs as long as there is still a tub in the house somewhere. Specifically installing a shower also means that you can have handheld shower fixtures implemented, another excellent way to assist with accessibility concerns because they are easier to clean and can accommodate seated showering and bathing others.
Additional Comforts in Remodeling Your Bathroom
Finally, consider aspects of bathroom remodeling in Chicago such as extra heating. Heating in exhaust fans and
heated floors are excellent ways to add extra comfort
and warmth to your bathroom. Vanity cabinets can be placed higher up so that users do not have to bend as far. Hard-wired lighting can be installed for extra brightness on magnifying mirrors. Finally, when it comes to setting the temperature in the shower, rather than using pressure-balanced valves, thermostatic valves will help you make sure that temperature is even every day, avoiding scalding once and for all.