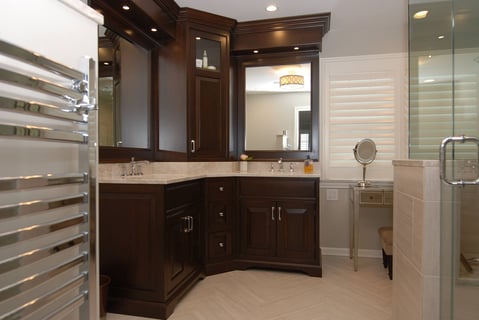 Radiant heated flooring is considered a luxury, but it is one we feel should be a standard feature for any Chicago bathroom remodel. In the many decades we've installed heated flooring as part of bathroom designs, we've never had a single customer call and say they regret it.
We wanted to create a guide that would include everything you need to know about heated flooring, and what to consider if you choose to take the leap. As a relatively inexpensive upgrade, one that improves energy efficiency, and a feature that notably enhances bathroom comfort on every level, heated floors are a bathroom luxury we feel is entirely worth it.
Heated Flooring Is Not Overrated
We've seen plenty of trends become hot one year and cool the next. This is not the case with heated flooring, which has only increased in popularity since Frank Lloyd Wright first popularized the idea in America via some of his building designs.
While considered a luxury bathroom feature, heated flooring is in no way overrated. These very well-designed and economical systems improve bathroom ambiance in a variety of ways.
Most people appreciate their heated bathroom floors because:
They maintain a consistently comfortable temperature in a space that is notorious for being chilly – particularly in the mornings and evenings.
The warmed floor feels wonderful on bare feet, eliminating those shockingly cold bathroom tiles - especially during the winter months.
They enhance your bath or steam shower experiences because the airspace around the shower and tub is warm. When you step out, you will not have the initial chill and goosebumps that typically occur upon stepping out of a warm bath or hot shower and into the bathroom.
If you're a pet lover, you'll quickly learn that pets enjoy radiant flooring, too!
They are more energy-efficient than forced-air heaters and eliminate the need for a small space heater in the bathroom.
Read our post, Pros & Cons of Radiant Heat Flooring, for more information.
How it Works
The basic principles around heated flooring are universal; a radiant heat source is brought to a consistent temperature, which then radiates through the flooring material(s), and into the living space(s) above. In these contemporary times, there are two different systems to choose from:
Electric. This version uses an electrical heating element that runs back and forth underneath the floor. The elements are sealed into a mat, sort of resembling an electric blanket. The elements heat up as electrical currents pass through them, achieving the thermostat's set temperature. Electric radiant floor systems are the easiest to install in a small space, but may not be the best choice for a large master bathroom remodel or larger areas of the home.
Hydronic. Rather than electrical heating elements, hydronic systems utilize an elaborate set of tubing installed underneath the sub-floor. Hot water is pumped from a boiler unit, through the tubes, and resulting heat radiates to the flooring materials above. Hydronic systems are the most energy-efficient when heating a larger footprint, such as a larger bathroom or an entire floor in the home.
Radiant floor heating can take a bit of time to dial in on your preferred setting. Since the flooring materials heat up and radiate heat through tiles, you can't just switch temperatures in an instant. While the bathroom can warm up in as little as 20 minutes, it can take longer than that for it to cool back down without an open window to help it out.
Flooring matters
Because the floor of the bathroom becomes the heat source, you want to select a flooring material that optimizes the function of your heated floors. Ceramic, porcelain, and natural stone tiles are the best options. While natural wood and thin carpet will work, it takes longer for heat to transfer through them, compromising the energy-efficiency of heated floors.
The installation process
The sooner we know you plan to install heated floors in your bathroom remodel the better. In new construction projects, we install radiant flooring systems in what is called "the wet floor" because it becomes part of the foundation.
For your Chicago bathroom remodel, we'll do a "dry floor" installation. In this case, we will remove your existing flooring materials and expose the underbelly of your bathroom floor. Depending on what we find there, we'll either install the system in the existing floor joists or we'll build a special sub-floor using grooved plywood to accommodate the system components. The system also requires a dedicated, 20 amp, GFCI protected circuit.
Are Heated Floors Expensive?
The average cost to add a heated flooring system to a master bathroom remodel runs anywhere from $2,000 to $5,000. When rolled into the total bathroom remodeling budget, this means the difference of just a handful of dollars per month for the duration of a home improvement loan. Most homeowners feel that the comfort gained, and the energy savings recouped, make it well worth the expense.
Your heated floors also increase your home's resale value, as it is a luxury feature that many new homeowners, especially luxury-seeking baby boomers and millennials, are happy to step into.
There are a few things that will help you get the most bang for your heated floor bucks. These include:
Working with a licensed, Chicago bathroom design-build team that has experience installing heated floors
Selecting high-quality heated flooring products that are known to be reliable and that have excellent warranty agreements
Choosing the right flooring materials to optimize heating consistency while minimizing energy consumption
Installing a programmable thermostat to maintain the lowest setting that provides the most consistent, desired temperature/feel
By no skimping on installation and materials, you'll enjoy a high-quality radiant flooring system that is consistent, error-free, and pays for itself via energy savings and comfort.
The team here at Kitchens & Baths Unlimited has designed and built Chicagoland bathrooms with heated floors for 40 years and counting. Contact us to schedule a consultation, learn more about heated flooring, and to decide whether it's a good choice for your upcoming bathroom remodel.