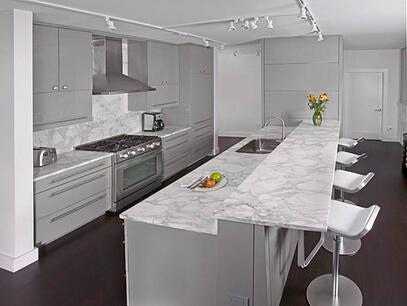 Porcelain tiles were a kitchen mainstay throughout the 80s and 90s, and then they were swept away by the wave of luxury kitchen designs that heavily promoted natural stone slabs.
Important to note, however, is that porcelain tiles were popular for a reason – porcelain is extremely durable, nearly impervious to staining and is available in a wide range of colors.
Should Your Granite Preferences Make Way For Porcelain?
Porcelain manufacturers wised-up quick. They now manufacture porcelain slabs that are not only as varied in colors as they used to be, but also boast pattern options that mimic natural stones such as granite and marble.
If you want a clean, seamless look in your kitchen design, porcelain could be the answer.
In terms of durability
Technically, porcelain slabs are about 30% stronger than granite, and porcelain is notably more resistant to chipping, cracking or etching. That being said, the slabs seem to be more sensitive to blunt impact – particularly around the edges and corners as the material is thinner than granite.
So, while it's harder than granite on one hand, you may need to take care when putting away larger, heavier pots and cookware.
In terms of pattern
Porcelain countertops come in a wide range of colors and patterns – and that aforementioned thinner slab depth means they work great for backsplashes as well. Designer programs can now create patterns that look remarkably similar to granite and marble patterns, a particular bonus for those who love marble but worried about durability and longevity.
Pay close attention, however, because while these patterns are similar – some critics say there is a pixilated or "too perfect" look to them which belie their natural-esque appearance - and this is more apparent on horizontal countertop surfaces than vertical backsplash applications.
In terms of application
Are designing a very modern or contemporary kitchen? Do granite seams bug you? If so, you'll appreciate porcelains ability to be cut into slabs much larger than granite options allow, which means you can design an oversized, seamless island of your dreams.
And, as we mentioned above, porcelain is easily adaptable to the backsplash as well, further providing that seamless, continuous look you desire.
In terms of edge details
If you are interested in bullnose or more intricate edge details, you may want to stick to granite slabs. Porcelain slabs are much thinner than granite, which means installers have to miter the edge to make it look thicker, and flat-polished or mitered edge details are all that's available to you.
In terms of resale value
Odds are the return on your investment with granite or quartz will be higher in the near future than with porcelain. However, in the longer-term, this may not hold true because while porcelain slabs are a newer option on the market, they're gaining popularity.
In terms of maintenance
There is no doubt that porcelain tiles are a much lower-maintenance option than granite. You can use any cleaning product on them, their non-porous surfaces don't etch or stain, and they never need to be sealed. If you're remodeling a kitchen for a busy household, or a kitchen with multiple small children, granite may not be the best pick.
Are you stuck between granite and porcelain options? If you like the maintenance-free appeal of porcelain – but worry about impact or the thin appearance, we also recommend considering quartz as an alternative.
Schedule a consult with the design pros at Kitchens & Baths Unlimited and we'll run through the luxury countertop options with you, helping you to determine which is the best fit for your ultimate kitchen space and lifestyle.