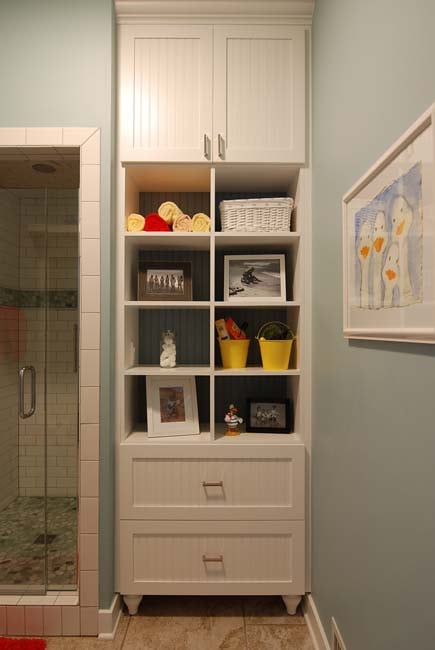 Depending on the size of your bathroom, storage solutions can be pretty tricky. Then again, without a thoughtful design, even a large bathroom can become cramped if storage spaces are too bulky or go unused. Thus, part of a Chicago North Shore bathroom remodel includes pre-planning to figure out the best means of netting optimal storage space without cutting into your precious bathroom square footage.
Optimize Storage Space in Your Chicago North Shore Bathroom Remodel
Here are suggestions for optimizing the storage in your bathroom along with examples from the Kitchens & Baths Unlimited portfolio.
Creative use of corner space. You may find that a new layout will improve the flow of your bathroom in addition to opening up more storage space. Fore example, the corner shower in this bathroom made it possible to add another vanity as well as extra drawer and storage space. Now, homeowners have gained his-and-hers sinks without changing the dimensions of the usable floor space at all.
Storage is possible in smaller bathrooms too. Here is another example of how creative solutions can add more storage space. This hall bath was on the smaller side. However, the addition of a tower vanity on the right-hand side of the countertop, against the wall, in addition to a window bench with a hinged top for storage, allowed our client plenty of room to store toiletries, extra bath linens and incidentals without encroaching on storage space elsewhere in the home.
Don't forget the benefits of tower vanities. Sometimes, homeowners are wary of tower vanities because they're afraid the tower will take up too much of the usable countertop space. In fact, quite the opposite is true. Consider, for a moment, what you use your bathroom countertops for; odds are that your answers revolve around things that can be stored. Tower vanities give you a means of hiding electrical outlets, which makes for cleaner tile work around the vanity, as well as a space for the hair dryer, electric razor, toothbrush holder and so on. Your items are conveniently and accessibly stored while your countertops can remain free and uncluttered.
Built-in storage. Additional built-in storage is always an option in bathrooms that have enough space. Our advice, make it recessed whenever possible. If you have an interior wall, you can usually eat into a bit of that interior wall space to keep a portion of the storage embedded in the wall, gaining a foot or more of floor space in your bathroom. Even a small amount of recessing can make your bathroom feel more open and spacious.
Utilize the wall space between bathroom sections. Does your master bathroom space have a separate room for your soak tub? Taking the recessed storage idea in a different direction, we recommend using that wall space in between to install storage shelves. In addition to gaining an eye-catching way to display beautiful glass art pieces, these homeowners were also able to filter natural light from one side of the bathroom into the other.
Having trouble creating organized storage space for your Chicago North Shore bathroom remodel? Contact the design team at Kitchens & Baths Unlimited and we'll help you brainstorm.