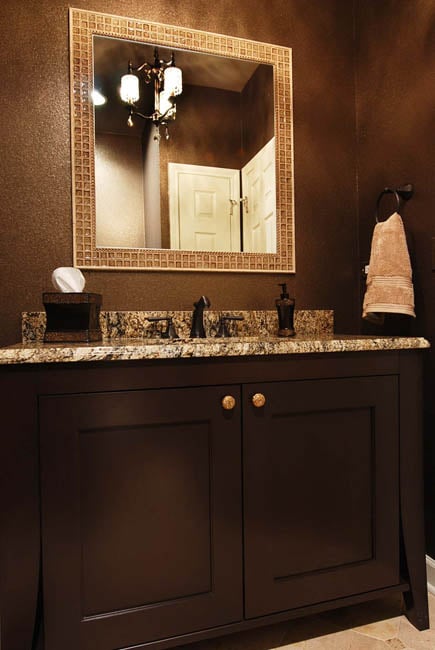 Powder rooms are unique. Unlike the larger square footage of a kitchen or master bathroom suite, homeowners have to convey their design theme in a very limited amount of space. There are several ways to approach your powder room space.
If you are a homeowner who loves the idea of bold, funky or eclectic interior designs, but don't have the guts to bring those elements into your traditional living spaces, the powder room can be a place to explore your designing wild side. Or, you may want to use the small space to go über-swanky or elegant. Either way, the following powder room design ideas can serve as inspiration as you plan to create your own small room with a powerful impact.
Antique. If you live in an older home or building, you may appreciate some of the existing architectural features in the powder room space. A sweet tile pattern or existing soap niche may be worth preserving, In this case, look for fixtures that complement the existing flavor. In this New York Brownstone remodel, designers converted an antique Indian window frame and shutter into an eclectic mirror. Brass fixtures add a spot of color and warmth.
Modern. Looking for a modern powder room design? We recommend going with a natural or glamorous look. In this contemporary powder room design, real river pebbles were layered on tiles for a 3-D, ceiling-to-floor wall covering. The sleek black vanity is suspended. A pedestal, vessel sink or wall mounted vanity are often the best choice for small powder rooms as the extra space underneath makes the room feel less cramped.
For a more glamorous look, consider a wall covering like the one featured in this modern bathroom. It's actually a recycled aluminum product that is backlit to show off it's three-dimensional surface.
Eclectic. Ready to go bold? Or funky? Consider focusing your powder room design ideas on all of the things you've never dared to do in your living areas. Remember that stunning wallpaper you were captivated by, but dared not add to a bedroom or living room space? Use it on the walls of your powder room and find fixtures and accents that highlight it. Traditionally, you'll hear that dark paint colors make a room seem smaller, but there's no hiding that the powder room is small. Go ahead and use a dark colored wall paint and choose electrical accents to bring it to life.
General tips for designing a powder room:
It's one room that can go completely outside the lines of your current interior design.
Lighting can be all about ambiance and less about function.
Pedestal sinks or vessel sinks and wall mounted vanities can help to open up the space.
Break up the walls using paneling or tile to help protect paint and/or wallpaper from water damage.
Select a unique mirror and/or vanity since they're the visual focus.
Contact Kitchens & Baths Unlimited, Inc. We'll help you sort through your powder room design ideas until you find the one that's right.