There are many styles to choose from when you opt to design Chicago Custom Cabinets. In many cases, the obvious choice will jump right out at you. The style of your kitchen design will also funnel you towards specific cabinet door styles.
Chicago Custom Cabinet Door Styles: The Low Down
Here is the low-down on the most prevalent doors styles available right now - as well as a few extra caveats.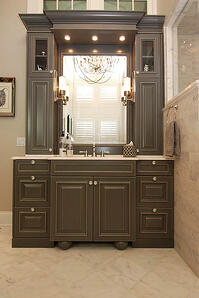 Raised Panel. These doors are most popular in traditional and transitional kitchens because the raised panels add a more decorated look. They are a "furniture-style" door and have been the hallmark of custom cabinets for some time - until the more streamlined, modern look began trending.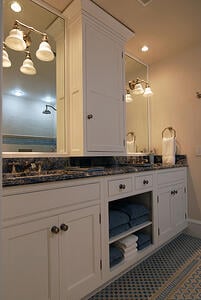 Recessed Panel. With these doors, the panel sits behind a frame. It is a more straightforward look - often a top-choice for transitional kitchen designs. Recessed panels offer a simpler appeal than raised panels but still add interest and depth. Shaker style cabinets are the most well-known version of this style cabinet doors.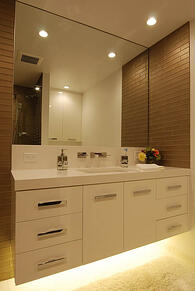 Flat Slab. Flat slab doors are as straightforward as it gets. These doors have a complete absence of panels. The only adornment they offer is the paint color or wood grain selected, or the hardware that's chosen (if any) for handles and drawer pulls. You'll hardly ever see them in a traditional kitchen, but they're a regular feature in modern kitchens.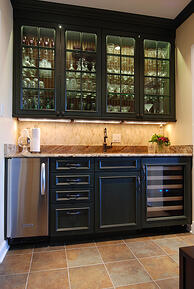 Glass doors. There's rarely a kitchen that doesn't benefit from glass doors. The panels can be clear although they're often frosted, mullioned or etched for interest. Glass panels make small kitchens look a little larger, add color depending on what's stored inside and minimize the effect of blind corners. Glass doors are also a good idea in open floor plans to help light move between the kitchen and an adjacent living space.
Other Options to Consider For Custom Cabinets
There are also other choices you'll need to make when designing kitchen cabinets.
Laminate vs. Thermafoil. This is another option, where either laminate or thermafoil are bonded to MDF (medium density fiberboard) doors. They're both highly-durable although intense heat/steam exposure can warp the finish. There are a range of color/wood-style finishes available and either can be a budget-saving option.
Solid Wood vs. Wood Veneer. Solid wood cabinet doors are considered top-of-the-line but they are increasingly less common. If you plan on using a lighter or natural stain, or think you'll re-stain your cabinets down the road, you may want to consider the solid wood route.
Wood veneers, which are securely adhered to plywood, are very durable. The veneers are made from real wood so there is nothing "fake" about them. Often, these are considered more durable than solid wood because of plywood's resistance to warping and seasonal movement.
A professional kitchen designer can discuss which one makes the sense for your long-term kitchen design plans.
Contact Kitchens & Baths Unlimited where a professional design-build team can discuss your design plans and determine the best Chicago custom cabinet door styles and options for your household.