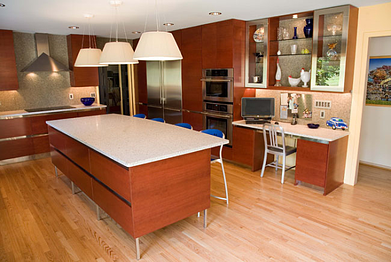 In the 21st century, kitchen options are becoming more and more versatile. For instance, in today's contemporary kitchens, you can even forgo hardware entirely, making it so that your cabinets and drawers have no need for handles or knobs.
Handles in Your Kitchen
For the more traditional kitchen,
handles and knobs for cabinets and drawers
are definitely the go-to option. In the contemporary kitchen, these can be just as sleek and beautiful. Handles are generally considered to be more contemporary, and so upgrading to handles from knobs can also update the overall look and feel of the kitchen itself. A wide range of materials are available for handles, and many materials can be paired together. Consider, for instance, curved steel handles on wood cabinets for a sleek, modern look.
Options for No Hardware
Of course, truly
contemporary kitchens are forgoing hardware entirely
. This is a simple possibility, one in which it is entirely possible to eliminate the need for any handles or knobs whatsoever. In order to create a sleeker, smoother appearance throughout the kitchen, cabinet doors and drawers are instead fixed with a groove or space underneath or on top of their faces, making it easier to open them than you might have imagined.
Despite the sleek appearance and ease of use of a hardware-free kitchen, some homeowners find that they prefer handles or knobs to open their drawers and cabinets. However, for those who want the easiest possible experience navigating their kitchens with a wonderfully sleek look, some systems are available for simple touch-activated opening and closing of kitchen cabinets and drawers.
In these particularly modern, sleek contemporary kitchens, technologies such as
SERVO-DRIVE by AVENTOS lift systems
are a wonderful option. By lightly touching the cabinet door, it will open smoothly to allow you access to all of your cookware, plates, glasses, and more. No matter what you have stored away, systems like this one provide ease of access and enormous convenience. In order to close the door again, a simple press of a button will suffice.
Of course, if you have any questions about the latest trends in contemporary kitchens, whether you are looking for options with or without hardware, never hesitate to contact us at Kitchens & Baths Unlimited. If you want to arrange to see our showroom or learn how you can view these options for yourself, feel free to get in touch.