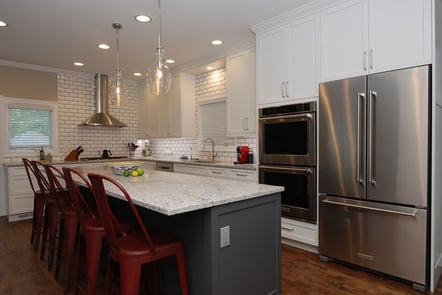 Any industry professional can rattle off a list of the most common questions they're asked by clients – and Chicago design-build professionals are no exception. While we enjoy providing personalized assistance to even the most inexperienced of remodeling clients, we also feel it's helpful if you come into your design consultation with some relevant background information.
For that reason, we're sharing 4 of the most common kitchen remodeling questions we answer on a daily basis.
1. How much does a kitchen remodel cost?
This question is asked so much, we've dedicated an entire post to the answer. But the bottom lines are that:
It's impossible to give you an estimate until we've seen your kitchen and discussed what you want.
Even the most accurate estimate in the world is still only an estimate until we've completed the demo work and ordered all of your features/fixtures because you never know when an unexpected snafu may arise.
As of this publication date, homeadvisor.com shares that the average cost of a kitchen remodel in the US is $23,000, with higher-end remodels closer to the $55,000 range.
If cost is a concern for you, we recommend reading:
2. How do I choose the best Chicago kitchen design-build team?
This area has vast array of kitchen design-build teams for hire, so it's challenging to narrow the list. We do recommend consulting with at least three separate design/builders before narrowing your choices. It's a time consuming endeavor, true, but your interpersonal exchanges will go a long way in helping you decide which one you feel the most confident about – and feel comfortable with.
3. What questions should I ask during the selection process?
It's easy to be seduced by the power of gorgeous portfolios and snazzy sales teams. However, there are more important things to pay attention to in the overall picture – like is your contractor licensed? How long have they been in business? Do their recent customers have nice things to say about them?
Read, Interviewing Kitchen Designers: What Questions to Ask to begin brainstorming the questions and answers that are most important to you.
4. How long is my kitchen remodel going to take?
Realistically, from the time you select your kitchen design team – to the moment your kitchen is completed – you're looking at about six- to eight-weeks. However, if we need to perform major renovations or things are seriously backordered, that time frame can stretch out a bit longer.
The goal here it to keep your eye on the goal (a stunning kitchen remodel) and to begin planning how you're family will survive the duration without losing it.
Read, A Home Remodeling Project Can Make You Crazy… to begin creating a family survival plan that makes sense for your household and its occupants.
The expert and very approachable design-build team here at Kitchens and Baths Unlimited is always happy to answer any questions you may have. We've designed and built high-end, Chicago custom kitchens for more than 40-years, and working collaboratively and cooperatively with clients is our favorite part of the job. Schedule a consultation online or give us a call at 847-729-1212 to get started.