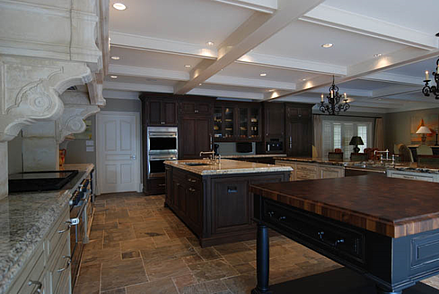 Residential kitchens have always been designed and built around the premise of cooking, but in an era where food and wine has taken center stage, gourmet kitchens are more popular than ever before. And, contrary to what it looks like on TV, a true gourmet kitchen design requires more than shiny, fancy things. It requires the implementation of high-quality appliances, quality cabinetry, ventilation systems and design features that are geared as much towards function, efficiency and flow as they are about aesthetics.
Here are some tips for planning a gourmet kitchen design in your North Shore home.
Start making your list. How you move and work in your kitchen should comprise the primary skeleton of your kitchen design. Start a running list that you build on each day as you move around your existing kitchen. Take note of the thoughts that pop into your head: "Gah! I wish my trash bin had a hands-free option," or, "I could definitely use a deeper sink." These small, seemingly inconsequential exclamations are the foundation of a future kitchen remodel that will be all about you, making your food prep and cooking time reminiscent of a well-choreographed dance.
Stay in the zone. You can get pretty darn specific when it comes to your kitchen zones and how you move within them. This can come down to how many steps or feet it requires you to get from one spot to another, to reach for this or that, etc. How you use your kitchen zones will determine the layout of your kitchen and affect what goes where in terms of appliances and tools. Traditionally, kitchens were designed around the idea of a kitchen work triangle. The advent of kitchen islands and bars have changed that, so we can design your kitchen in a way that's uniquely suited to how you work.
High-quality pays off. Whether you're a gourmet cook or produce baked goods worthy of an upscale cafe, it is worthwhile to invest in high-quality appliances. This includes powerful ovens, cooktops with high BTUs, etc., and these require a gourmet kitchen design that accommodates a top-notch ventilation. Quality begets quality and you'll be glad you made the investment.
Make way for efficient storage. Kitchen storage options could very well be the single most evolved area of kitchen design in the past couple of decades. Until recently, cabinet and drawer spaces were consistent from house to house. Now, pull-out shelves, fold-down cabinet interiors, creative pantry options, fluid slide-out corner cabinet shelves, wine storage, etc., are all part of making a kitchen design as efficient and ergonomically correct as possible.
Social-friendly kitchen spaces. Cooks grew tired of being left out of all the fun. Plus, they were tired of everyone cramping their space while they tried to work. Thus, the entertaining kitchen was born. Open layouts with plenty of flowing perimeter and island prep spaces, complete with bar overhangs, good lighting and comfortable seating make sure the cook and the guests can all enjoy festive food and drink preparations.