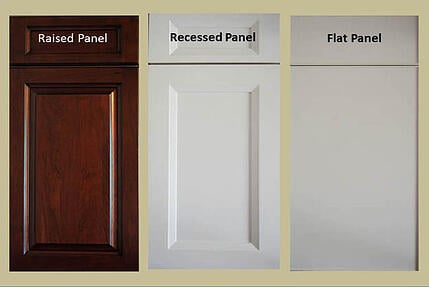 Shopping for cabinet door styles may not be as straightforward as you'd think. If you've done a remodel in the past, this is par for the course. If this is your first time around the kitchen remodeling block, prepare yourself for the "easy decisions" that could end up taking more time than you anticipated.
To make things easier for you, we're breaking down kitchen cabinet door styles into three basic categories:
Raised Panel (traditional)
Flat Center Panel (transitional)
Flat Slab Door (contemporary)
There are plenty of variations between these three, but virtually every door style falls into one or the other. Knowing your preferred design tastes can direct you to the right category.
Are you a traditionalist?
A traditionalist wants everyone who enters the kitchen to feel instantly at home. Your favorite kitchens growing up had a few antique kitchen implements still in use, beautiful woodwork on hutches and cabinet shelving and, even now, you tend to gravitate towards kitchen online design spreads that have "farmhouse," "country," or "shabby-chic" in the titles.
Is transitional design more your style?
If you're a transitionalist, you like a kitchen with a few signature accents that say, "comfort," like a freestanding island with traditional woodwork, a refurbished 1950s gas range or sweet curtain panels but you also appreciate the modern luxuries of recycled countertop materials, a bright and modern color palate and a few industrial light fixtures or commercial sinks and faucets that add a contemporary and functional edge.
If you can't take the clean lines, get out of the kitchen.
The true modernist likes a no-frills kitchen design approach. It's all about a streamlined and integrated kitchen, complete with the newest kitchen appliance innovations and easy-to-clean materials. Don't confuse this approach with being cold, however, because the right blend of finishes and colors will yield a welcoming modern aesthetic.
Which Design Style Suits You?

Now that you have a better idea of your design tastes, you can move to the appropriate kitchen cabinet door style and go from there.
Raised Panels for the Traditionalists. Most of the time, traditional clients opt for raised panel doors that have more intricate woodwork and artistic flair. This is someone who doesn't mind lovingly wiping their cabinets down on a regular basis to keep them looking their best.
Flat Center Panels for the Transitionalists. A transitionalist often chooses cabinets doors with flat center panels. Door frames are slightly higher than the center panels so you still get the "relief" effect of a raised panel door but the lines are much cleaner so they make a nice transition between your traditional and modern accents. These are the most popular option here at KBU.
Flat Slab Doors for Modernists. A modernist says, "No thanks! I want it simple and free of adornment," which is what you get with a flat slab door. No raised elements to bother with, they often have a glossy or lacquered finish for easy cleaning.
Now that you've chosen your preferred category, come on in to Kitchens & Baths Unlimited and we'll help you narrow down the exact kitchen cabinet door style for your tastes.