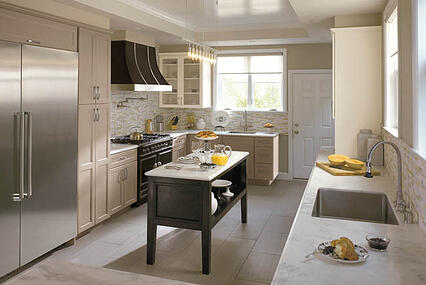 Are you feeling frustrated about your small kitchen design? It seems like most interior design advice these days is geared towards large sprawling kitchens and master baths, which can leave condominium and small home dwellers feeling left out. Small kitchens are a joy to remodel. With the right design, you will have such a beautiful and completely efficient kitchen space - you won't even remember it's small.
Here are tips for making the most of your - shall we say - space challenged kitchen...
Plan well. Planning is key to making sure that every square inch counts. We recommend making a list of what you like and don't like about your current space. Use graph paper to sketch a scaled drawing of your kitchen dimensions and begin playing around with various layouts and ideas. Then schedule a free consultation with a professional kitchen designer. Together, you'll be able to brainstorm all the little extras that will keep your kitchen comfortable, user-friendly, and de-cluttered.


Floor-to-ceiling cabinets. Often, kitchen designs leave the last foot or so of ceiling open, in order to "create more space". However, in a small kitchen design it makes more sense to utilize every bit of the floor to ceiling space with highly functional cabinets. In order to create a more open feeling, we recommend using glass doors, or some open cabinet shelving as well.


Smart storage. Talk to your designer about your functional cabinet options including pull-out shelves and spice racks, hidden trash containers, corner cabinets with lazy susans, custom drawer organizers, etc.


Use a peninsula. Small kitchens usually won't accommodate the space for a kitchen island. In this case, we try to incorporate a peninsula. Kitchen peninsulas work similarly to an island in the sense that they provide additional undercounter storage space on both sides. They make a wonderful dine-in area, a buffet space for larger gatherings, and provide extra surface area for food prep.


Beware not-so-space-saving advice. Some home design sites advocate hanging pots, pans, and utensils from the ceiling or the wall. Experience has taught us this results in a cluttered and closed-in effect. Keep airspace free and open. While upper-levels in ceiling-to-floor cabinets are harder to reach, you can use them for lesser-used items like holiday dishes and serving platters.


Light and bright. A small kitchen can be opened up considerably by using light colored cabinets, walls, and or tile work. Reflective surfaces can also help to make the space feel larger, similar to the way mirrors are used in interior design. If you can add a window or skylight, that's an added bonus. Your lighting design is also critical. You don't want lighting that casts a lot of shadows; that will make the kitchen seem smaller and more closed in. Instead, use a blend of recessed cans, pendant and/or overhead lighting and undercabinet lighting so the kitchen can be bright day or night.
Don't be daunted by a small kitchen design. Contact Kitchens & Baths Unlimited, we'll create a kitchen you'll fall in love with.