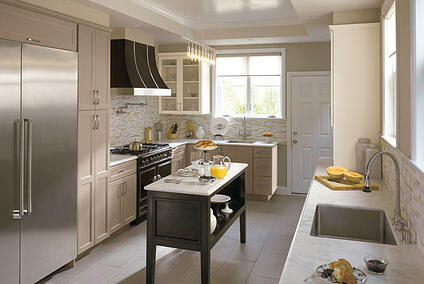 Designing an upscale kitchen or bath remodel? Custom or semi-custom cabinets - that is the question. Fortunately, with Omega Cabinets, you won't have to decide until it comes down to the nitty-gritty.
For the past several weeks, we've been introducing the blogosphere to some of the top-quality manufacturers of Chicago custom cabinets, as well as a couple of semi-custom lines. Omega got their start as cabinet makers but also offer the Dynasty line, which also offers attractive cabinet options.
Enjoy Chicago Custom Cabinets from Omega
Like several of the top cabinet manufacturers in the U.S., Omega got their start during the 1970s. It was founded by a small group of craftsmen who wanted to provide luxury homeowners with truly custom cabinets, made from hand-selected woods, the best craftsmanship and durable hardware. While Omega cabinets have evolved over time, and are now a subsidiary of MasterBrand cabinets, their commitment to these principles remains the same.
Today, the woods for Omega cabinets are still all selected by hand. The family of craftsmen "continue to build furniture-quality cabinets that are customized to meet any need." This is one of the reasons why Kitchens & Baths Unlimited has enjoyed such a long-standing relationship with Omega.
In addition to the custom cabinets they're known for, Omega also produces Dynasty - a semi-custom line. Dynasty cabinets offer a custom look without the more custom price tag, and are still available with plenty of options and accessories to choose from. They can also be mixed with pieces from the Omega collection to provide a more custom aesthetic. Omega and Dynasty are both certified brands in the KCMA Environmental Stewardship Program , demonstrating their commitment to sustainability and eco-conscious practices.
We've used Omega cabinets in many of our recent remodels and renovations. You can peruse highlights of our work in our KBU portfolio. This Deerfield kitchen remodel is a perfect example of how gorgeous semi-custom can be. This kitchen was narrow, so it was important to create a clean aesthetic that minimized embellishments that can take up much-needed space. We used the Dynasty Renner door style for perimeter islands and the Provincial cabinet faces for the furniture-like island we built to fit the narrow kitchen space. This kitchen shows how you can blend custom and semi-custom line to suit your style and your budget.
In addition to kitchen and bath remodels, we also do laundry room renovations. The first example of Omega's fine work comes to you via a laundry room remodel we completed for Northbrook homeowners. They wanted a triple purpose room; we created that by using durable Omega cabinets with shaker-style doors. A full-overlay door reduces the visibility of any framing materials, keeping the look clean and contemporary.
Interested in learning more about Omega cabinets or any of the high-quality Chicago cabinets we offer here at Kitchens & Baths Unlimited? Contact us or give us a call to schedule a consultation with our design team. We look forward to making your kitchen remodeling dreams come true. 847.729.1212.