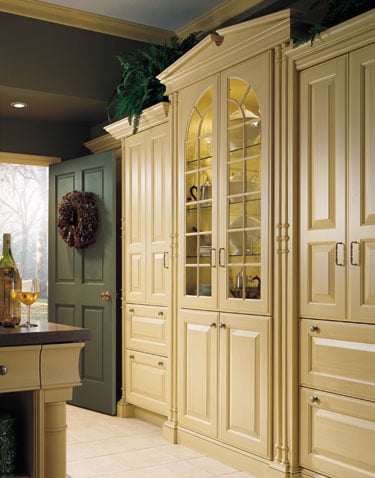 When you're planning a North Shore kitchen or bathroom remodel, or are renovating either of those spaces, cabinet selection is one of the most important decisions you'll make. In addition to comprising a significant amount of design square footage, that square footage is vertical - which means its a highly visible element of your design.
For those reasons, you choose cabinets that work best for both your budget and the overarching vision for your project.
The Difference Between Custom, Semi-Custom and Stock Cabinets
There is a pretty significant difference between custom, semi-custom and stock cabinetry in terms of internal structure, quality and the finished product's appearance. Usually, clients opt for one or the other, however there's no reason why you can't mix it up a bit to fit your kitchen needs.
Custom Cabinetry
This is the crème de la crème of the cabinet world. Your custom cabinets are a sign you have met with representatives from your Chicago bathroom or kitchen design specialist and reviewed every nuanced design detail. They will want to know your taste(s), color preferences and needs. You will have a layout - or multiple layouts - to choose from and each one will have its own version of cabinet ideas. Anything you need is possible with custom kitchen cabinets because they are being designed, cut and built specifically for your kitchen.
The materials used for custom cabinets are top-of-the line. These cabinets are built to last a lifetime and barring fire or an extreme water damage situation, they can handle a lifetime of reasonable wear and tear.
Semi-Custom Cabinetry
This is a genre of cabinets that most homeowners are unaware of until they decide to remodel or renovate their kitchen or bathroom. Semi-customs cabinets are the space where stock and custom cabinets meet. They are higher quality than your average stock cabinets but they are still made in bulk, making them more affordable than their fully-custom counterparts.
Semi-custom cabinets come in more unique shapes, depths, widths, etc., than stock cabinets which is why they have become a popular option. You will have a larger range of choices, in addition to higher-quality, but you will ultimately be limited in your choices in terms of woods, finishes, styles, shapes, etc.
Stock cabinetry
These are the cabinets that you see for incredibly low prices at your local big box home improvement store. They look great at first glance, but you will notice the imperfections when you get up close and personal. The bones of stock cabinets are made from particle board and the majority of them are finished with a laminate surface that may begin to lift or separate from the cabinet doors or frames over time. This is partly why they're more affordable.
While stock cabinets might meet your first-time budget, there's a good chance you'll ultimately pay more over the long haul than you would for semi-custom or custom cabinetry as the longevity just isn't there.
Schedule a consultation with Kitchens & Baths Unlimited to discuss custom cabinetry for your Chicago North Shore remodel or renovation.