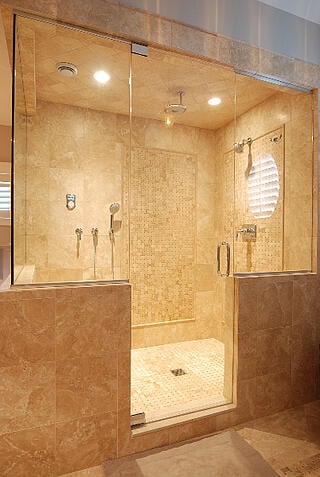 In full disclosure, we'll be honest and upfront ; there isn't an employee here at KBU that doesn't sing the praises of steam showers. We love them. In our minds, it's pro, pro, pro when it comes to these luxurious and relaxing additions to a Chicago bathroom remodel.
That being said, we'll do our best to be honest about potential cons.
The Pros of Installing a Steam Shower
Steam showers offer a range of benefits, from relaxation and therapy (even aromatherapy if you so choose) to cleansing and meditation. When sealed in your glass enclosure, relaxing after a hot shower, in a sea of hot, moist steam – the world outside disappears as you're transported into a more blissful state.
Your steam shower allows you to:
Relish ultimate relaxation
They provide a continuous and regulated (you control the temperature) clouds of moist, hot steam. It warms you up, relaxes the muscles and allows the body to unwind. Deep breaths in and out will transport you into a meditative state and this can be enhanced by additional steam shower features such as lights, soft music and aromatherapy options. Your well-placed shower bench allows you to sit down or - perhaps - even lie down as you relish the tranquility.
Heal the body from the outside in (and back again)
From relieving muscle and joint pain (seniors and those with arthritis or sports-related injuries find tremendous relief and rejuvenation from the moist heat provided by a steam shower) to overall relaxation, steam showers provide a healing and rejuvenating effect. Those who suffer from allergies, respiratory ailments or the routine winter bronchitis episode find nightly steam showers help to keep the airway passages clear (parents also appreciate this method of healing for children with colds, especially littler ones who don't know how to clear air passages on their own.)
The steam shower may replace the space-consumptive soak tub
If you love a bath, but only take them a handful of times per year, a steam shower might be the answer. Many homeowners wind up eliminating a soak tub from their bathroom remodeling plans, finding steam shower features to be equivalent when it comes to relaxing and unwinding. Granted, there's no reading in a steam shower so keep that in mind if your one that enjoys candle light, wine and a good book while you soak…
The Cons of Installing a Steam Shower
Yes, they're relaxing but steam showers also produce a tremendous amount of moisture, and if they aren't used often enough, the price you pay may not be worth the minimal time you spend in it.
Will you really use it on a regular basis?
The idea of a steam shower may seem wonderful, but it will be a waste of time if you don't use it often enough. If you've been in a steam shower, or you use the sauna at the gym on a regular basis, you know your stuff and can design a shower you'll never want to leave. If you haven't spent much time in a steamy environment, it's time to test the waters (or the steam) by visiting health clubs, hotels or spas, taking advantage of their steam shower features to see if you really want to invest. Otherwise, that's money you could put elsewhere in your Chicago bathroom remodeling budget.
They create moisture problems without adequate design and ventilation
It's important that your steam shower is designed and built by professionals. Firstly, while steam shower kits are an option, they must be accompanied with the right shower door and an adequate ventilation system. If you're designing a brand new bathroom, the bathroom design team should suggest an upgrade of your bathroom's ventilation system – the average bathroom fan isn't enough to vent the moisture produced by a steam shower unit, and that will lead to mold, mildew, leaks, structural rot and other moisture-related problems down the road.
Interested in learning more about steam shower and other luxury Chicago bathroom design options? Come on by or schedule a consultation with Kitchens & Baths Unlimited.