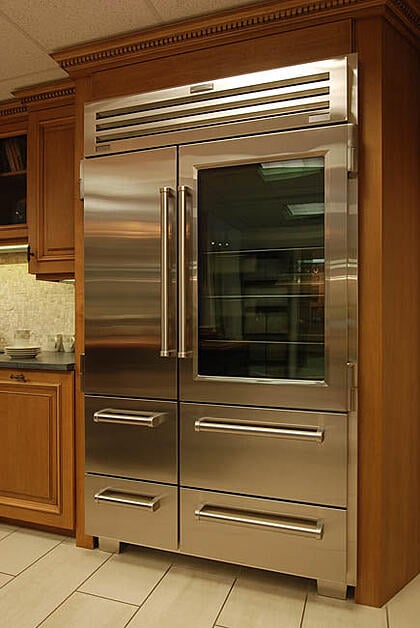 In all of the excitement of selecting your kitchen finishes, you may have forgotten the kitchen's primary function - preparing and cooking meals!
If you haven't already, we recommend visiting Abt Electronics. They're friendly and knowledgeable staff work with your design/build team to ensure appliances are delivered on time. You can also visit our kitchen display, which is showcased in their custom kitchen area.
Question 1: How Often do You Cook and Bake?
For some amateur chef/homeowners, commercial-grade cooktops and ovens are a must. For others, the oven, stove and microwave are a means to heating frozen and ready-made foods, in which case the brand doesn't matter in the least - it's all about aesthetics. Knowing how high-end you want to go is the first step in your kitchen appliance selection process.
Question 2: Gas, Electric, or Induction?
Cooktops: Most serious cooks prefer gas cooktops because you have the ultimate control over the heat source. If you use your cooktop on a regular basis, and more more than just boiling or reheating, look for a cooktop with at least 9200 BTUs.
Electric cooktops take longer to heat up - and are slower to cool down for recipes that require instant heat adjustment. However, they are sleek and work well with modern kitchen designs. That being said, induction cooktops are incredibly efficient and are coming back into style. They can boil a pan of water faster than most gas burners.
Ovens: Traditional chefs and bakers prefer ovens that offer the standard bake, roast, and broil functions. If that's not your style, a convection oven that uses a fan to circulate heat will help you cook dinner faster. Want both? Ask us about double-oven possibilities. Another great option to research and consider are steam ovens.
Question 3: Interested in an Integrated Kitchen Design?
Integrated kitchen designs are becoming increasingly popular. Larger appliances, including the refrigerator, dishwasher, warming drawer and trash compactor, are covered by matching cabinet facing. The result is a more fluid look, without the interruptions caused by the cabinet-appliance-cabinet look, which has been the norm.
Most, if not all, appliance manufacturers offer panel ready appliances. A fully integrated appliance is one where you don't know it is an appliance unless you open the door. Versus a panel ready appliance is still a clearly recognizable appliance.
Question 4: How do You Use Your Refrigerator?
A refrigerator with a single-compressor does the job but double-compressors are worth the added investment if your family spends extra for organic and/or high-quality ingredients. Your kitchen designer can help you select the best refrigerator for you kitchen. Your options include standard and counter-depth, or it can be built-in. If you buy water bottles, invest in a high-quality water purification system; you'll save money - and landfill space.
These are only the basics. You also have a myriad of choices regarding your dishwasher, wine storage, built-in coffee stations and more. Visit us at Kitchen & Baths Unlimited to choose the right appliances for your kitchen remodeling project.