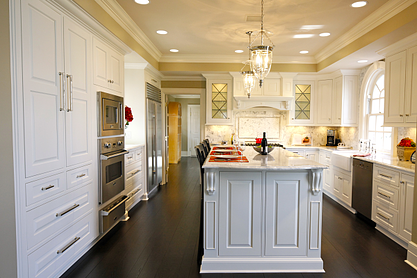 Many times people think that they need to start the process of remodeling their kitchen with an architect in order to design their new space. Did you know that the process can actually be started with a kitchen designer? Starting the process with a kitchen designer for your remodel means saving money right off the bat. With an architect you are immediately pulling out the checkbook for something you typically can end up getting for free. Why not start your kitchen renovation by searching out the right kitchen designer?
Most kitchen and bath showrooms offer a design service. This design service is ultimately free as long as you end up buying cabinets from the same firm. Granted they may not just hand you over their creative work without a retainer or a deposit, but starting this way allows you to meet with a couple of kitchen designers in the Chicago suburbs without it costing you a dime until you find the right one. The nice part about approaching a kitchen remodel this way is that you will get to consider a couple different design configurations and also explore which designer is the best fit for you.
Kitchen designers have a great attention to detail, understand space planning, and recognize the importance of appliance locations and travel paths. That said, be prepared to play 20 questions. Designers love to ask questions to get to know how you use your space. The more they learn about your everyday kitchen habits the better suited they are to help you make your next kitchen exceed your expectations. Here are some examples of some potential questions:
1. Are your tastes contemporary, transitional or traditional?
2. Do you want to remove any walls and enlarge the kitchen space?
3. Do you want seating at the island or peninsula? Ideally for how many?
4. Are you open to the idea of your microwave being below the counter ?
5. Do you want double ovens? Or are you okay with two separate ovens?
6. Is a secondary sink important to you?
7. Do you entertain often?
8. Would you like a wine cooler or a beverage center?
9. Do you want some glass cabinets or open cabinets for display?
These are just a few questions that really start to get you thinking about what you may want to incorporate into your new kitchen design.
Interviewing Your Kitchen Designer
It is one thing to have your kitchen designer asking all of the questions to better serve you and ultimately get you and your family the dream kitchen you deserve. But, you should also flip the table and interview your potential kitchen designer with some basic questions as well.
For example:
1. How long have you been working with the current kitchen design firm? Or how long have they been in business remodeling kitchens?
2. Do you help with other material selections besides just the cabinetry?
3. Do you charge to come out to the jobsite to take measurements and get a feel of my home?
4. Do you offer general contracting or installation services?
5. What items or materials should I consider incorporating into my kitchen to help with resale value?
These are some basic questions that will get you started when trying to determine who you would like to partner with on your project. You will want a seasoned designer with a great track record and one that you feel comfortable with. This area of your home is too important so make sure to find a designer who listens to your expressed needs and desires for your dream kitchen. Having a great kitchen designer can be priceless. There are so many moving parts and you will need the expertise of a seasoned professional to keep the kitchen remodel moving forward efficiently and on budget. Do it right and take your time in finding the right one and can get it done! For more interviewing questions to ask your potential designer download the white paper below.