Traditional Northbrook Bathroom Design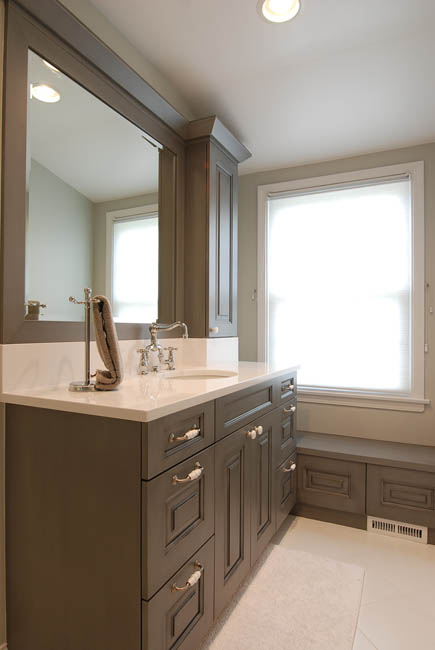 Job Summary:
Outside the obvious reason for wanting an update, this homeowner was all about Storage! Storage! Storage! Every inch counts, and this bathroom had a lot of wasted space. Having a low window in the room creates an obstacle sometimes if you aren't putting a tub in front of it. While this homeowner didn't want a tub, she definitely wanted more practical storage without altering the window since it is on the front of the house.
Cabinetry:
We used fully custom Bremtown cabinetry in a paint and glaze finish. The gray matte paint has a soft brown glaze dragged across the top which leaves behind the brushstroke of the paint brush for added texture and dimension. The door style is a traditional raised panel that remains a classic. It's nice to have a tower cabinet resting on the far right end of the counter for additional storage. It makes a great spot for hiding an electrical outlet so you can plug-in some of your accessory items, like an electric razor or electric toothbrush.
Countertop:
The white Silestone quartz countertop on the vanity is 1.25-inches thick with a standard eased edge detail. It has a matching 4-inch backsplash that continues to wrap around the bottom of the tower cabinet to protect it from splashing or pooled water. The countertop on the bench is a matching 1.5-inch thick maple wood that has been finished to match. All access to the window bench is done by lifting the wood top rather than only having access to the half of the bench that is accessed by the drawers.
Flooring:
The flooring was laid using a soft gray (almost white) porcelain 14x14 tile, set on an angle. We recommend this in smaller bathrooms. It gives the illusion of a bigger floor space that spreads out. This is a different look from a square pattern, which appears more linear and makes a room seem smaller.
Plumbing fixtures:
We installed a Kohler Caxton K2210 undermount white oval sink and a Jado polished chrome faucet to add some character and charm, which fits with the rest of the house.
Mirror:
The framed mirror was custom-fit and built on-site. The framing matches the door style and cabinetry finish. Plus, we added additional crown molding to provide continuity on top of the cabinet. When it comes to Northbrook bathroom designs, it's all about the details.
Are you interested in bathroom design or remodel that includes all the extra details? Schedule an appointment with the design team at Kitchens & Baths Unlimited.