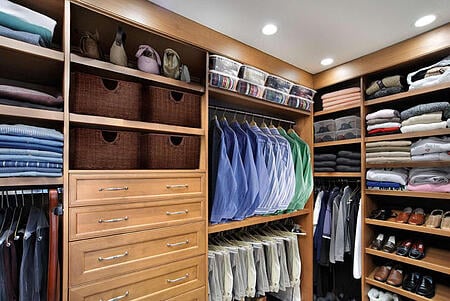 Remember when master bedroom closets were typical wall closets, just a little longer? Then walk-in closets became all the rage. The larger space and extra closet rungs were major bonuses, of course. However, in the end, we all just ended up with a big cavernous space that got piled up with a bunch of junk. Oops!
Design Custom Cabinets for Your Walk-in Closet and Make it Perfect
Fortunately, designers got savvy and now you can create custom cabinets for your walk-in closet that take your closet from functional to pretty near perfect. Custom means exactly that. YOU are the one(s) who guide the style, functional aspects and extras that will house your wardrobe, shoes, jewelry, shoe shining accoutrement, jewelry, hats, belts, ties...get the picture?
As with any Chicago remodel or renovation, we recommend sitting down to brainstorm what's in the space, how you use it and how you wish it could be used. Go ahead and get Type A, listing everything that it's your closet now - and what you want to be able to add to it. If you do this work ahead of time, it will make your consultation with your Chicago cabinet designer that much more productive.
Here are some examples from our own portfolio to inspire you. Have an idea of your own? We'd love to hear it. Also - if you are the female of the closet-using duo, don't assume you know what your mate wants. Ask him. You may be surprised at the ideas and wishes he has for your custom closet space.
Take advantage of pull-out organizers. In kitchens, we advocate pull-out pantries; in walk-in closets, we recommend pull-out organizers for all the extras that get bunched up and out of sorts when left to shelves and floors. These include things like scarves, wraps, ties, belts and so on. They are also a great way to store your shoes.
Organize your hampers. You can also add pull-out hamper drawers. They can be organized anyway you like them from His/Hers to how you sort your laundry (whites/darks/pants). Either way, this method frees up floor square footage normally devoted to independent hampers.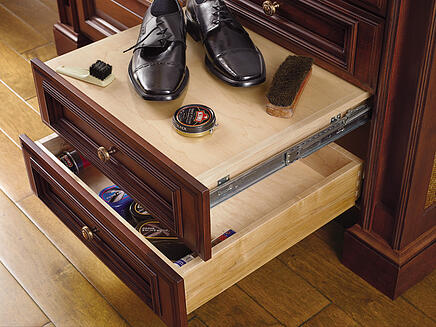 Specialty stations. Are there activities you would prefer to do in the comfort of your closet? Create an area for shoe shining and storage, or perhaps a sit-down makeup station so you can do your makeup while your mate showers. The closet world is your oyster.
Mix up your shelf space. Your stock walk-in closet probably comes with one level of a top-shelf. With custom cabinets, you can create multiple levels, sizes and shapes for your closet shelves. Keep that top shelf for specialty items like fancy hats or the shoes you hardly ever wear. Leave some open shelving for stylish baskets to house seasonal items like hats, gloves and heavy scarves.
Don't forget the lighting. Finally, we'll design custom lighting, using recessed cans, sconces and overhead lights so your closet is an attractive and usable room, rather than a shadowy cave.
Ready to design custom closet cabinets that will transform the way you use your walk-in closet? Contact the design team at Kitchens & Baths Unlimited to schedule a consultation.