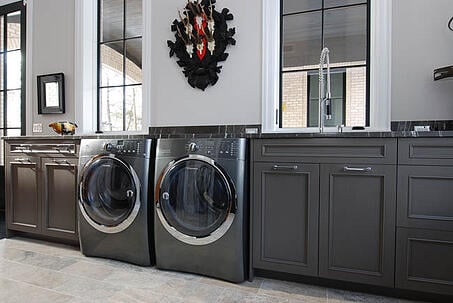 If you're planning a significant kitchen or bathroom renovation this year, think about adding a laundry room remodel to the mix. When combined as a package deal, you can save considerably compared to remodeling the laundry room on its own, and there are multiple ways your design-build team can upgrade its efficiency and style.
Ideas For a Chicago Laundry Room Remodel
Here are some of the trends that are driving laundry room designs these days. We've chosen to highlight the ones we predict will stand the test of time.
Laundry room by design
Whether it's visible to the public eye or set back into the recesses of a hallway, homeowners are choosing to create laundry rooms that mimic the style of their home or kitchens. This yields designs that mimic farmhouse designs or modern aesthetics, and make the laundry room a more attractive space to spend an hour or two sorting, folding and ironing.
More cozy and less industrial
Innovative finishes mean you can enjoy a cozier feel in the laundry room without having to worry about water or moisture damage. Pre-engineered hardwood floors add warmth and texture. If you're still worried about potential floods or water exposure, consider using ceramic floor tiles that bear a striking resemblance to natural wood.
Warm paint colors and rustic wood open shelving and also add warmth and texture to the design.
Function and efficiency
As with kitchens, homeowners are taking a concentrated look at how they use their laundry rooms - or how they could use the space - and then designing accordingly. Things to consider include:
Fold-down racks for clothes drying - they improve the life of your clothes and cut down on the amount of energy used for the dryer.


Durable, easy to clean surfaces - quartz countertops are an excellent option in laundry rooms because they can be washed or scrubbed with just about anything and they'll last for the lifetime of your home - no worries about chips, cracks or stains left by pooled detergent or cleansers.


Organized storage - like the kitchen, pullout shelves and customized storage options mean you can whip your laundry room into ship-shape, ensuring there's a place for everything and everything in its place.


Folding island or counter - If you have the room, consider adding a folding island in the middle of the space (which will also come in handy when it's time for crafting, present wrapping or piecing together the kids' Halloween costumes.). If space is limited, add a countertop above the front-loading washer/dryer and use that as your folding station instead.
Got pets?
These days, our clients often add a pet washing station or an entire pet corner - complete with grooming table, feeding supplies, etc. This is a great idea if you have a laundry room that serves as a mudroom - keeping errant dirt, mud and fur from creeping into the rest of your living spaces.
Interested in designing a Chicago laundry room remodel? Visit Kitchens & Baths Unlimited and we'll help you think of all the extras.