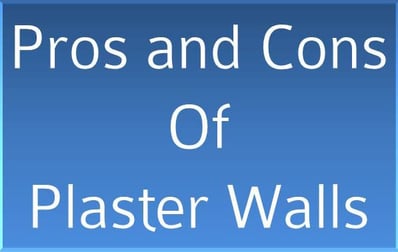 We are lucky to have such beautifully preserved historic architecture here in Chicagoland. Part of that beauty has to do with architectural styles and techniques that are rarely seen in contemporary home designs. Plaster walls are one example of this. While they are still installed today, plaster walls are less common because they are more expensive and time consuming to install and finish.
That being said, there are inherent advantages to preserving the plaster finish in your Chicago kitchen remodel.
Pros and Cons of Preserving Plaster Walls For a Chicago Kitchen Remodel
Here are some of the advantages of plaster walls. They are:
Durable. Plaster is a strong material and it's quite durable. Historic homes are testaments to that. Plaster is also more fire resistant than many other products and can provide increased sound insulation in older homes. In fact, professionally installed lime plaster actually gets better with age and also offers mold-resistance as an added perk.
Beautiful. There is a serene artistry involved in applying and finishing plaster, and that same energy transmits in the way it looks. There is a noticeable "upscale" look that is an inherent plaster aesthetic.
Unique. Plaster was the "go-to" wall finishing product until the 1930s and '40s. Then, it began to phase out as easier, more affordable methods - like drywall - came into being. For that reason, plaster is a more unique wall finish and can set your home's interior apart from neighbors who have completely replaced theirs or moved into newer residential developments.
If you have plaster walls, your design-build team will look a little more carefully before they make a recommendation on how you should proceed. There can be disadvantages to keeping the plaster in place rather than replacing it with drywall.
Some of the disadvantages of plaster are:
Craftsmanship. If the original craftsmanship wasn't all that great, and/or the plaster wasn't cured properly, you will suffer a continual string of plaster mishaps. If the house isn't as structurally sound as it should be or if you live on a busty road, continuous road vibration makes plaster prone to cracking and crumbling.
Unevenness. Sometimes, even expertly applied plaster becomes uneven over time as a house settles and the structural components move separately from the plaster and its lath framework. So, if the plaster in adjacent rooms is uneven, sagging or a little worse for wear, those defects will be even more glaring once your new kitchen remodel is complete.
Matching the finishes. You want new sections of plaster to match the old sections as closely as possible and this can be difficult if renovations, repairs and touch-ups aren't done properly.
Expense. As noted before, the process of repairing and/or replacing plaster is more labor intensive than installing drywall, which makes plaster a more expensive option.
Not sure whether you should repair or replace the plaster in your upcoming Chicago kitchen remodel? Schedule a consultation with Kitchens & Baths Unlimited and we'll be happy to give you our opinion and discuss your options.