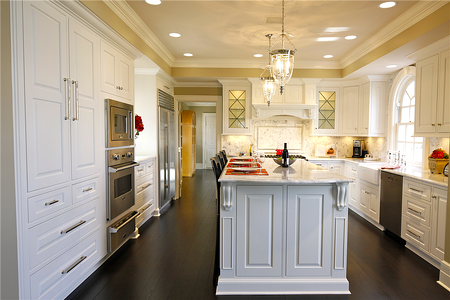 If you have ever poked around our Kitchens & Baths Unlimited Kitchen Portfolio, you may have noticed some of our photos are accompanied by hyperlinks that take you to more detailed descriptions if the fixtures and finishes installed in that particular kitchen remodel. By reading these descriptions, you'll notice certain manufacturers and vendors are featured more frequently than others. When it comes to Chicago custom cabinets, Grabill cabinetry is one of the KBU stars.
Grabill Custom Cabinetry: Invest In the Highest Quality Chicago Custom Cabinets For Your Kitchen Remodel
While all of our custom and semi-custom cabinet lines are popular, Grabill is one of the most desirable because the company focuses on the very highest quality of materials and craftsmanship. Founded in 1956 by Vilas Schertz, Grabill got its start building useful, open dishware storage that was high-quality and very sturdy. Even so, Schertz's inner-artist was always compelled to add some extra finishing touches - according to the homeowner's interests or tastes - to make his wall-mounted storage boxes look as beautiful as they were functional.
Thus, Schertz set the tone for one of the nation's most well-respected and sought-after custom cabinet designers. Schertz viewed the kitchen as the "heart of the home," and said, "That is why a kitchen must reflect your values and the way of life you have chosen for your family." Grabill's designers have a wonderful eye and design both frameless and fully-framed cabinets to achieve the look their customers want.
Grabill is known for their innovative and contemporary kitchen designs, however, they are just as talented at designing traditional kitchens that welcome friends and family and make all who enter feel right at home. In fact, they are so good at what they do, they are even able to blend traditional bungalow-style cabinet design with contemporary lines so owners can achieve the best of both worlds.
Another bonus of using Grabill cabinetry? You'll be doing your part to help the environment. In 2013, Grabill was rewarded Environmental Stewardship Program (ESP) certification by the Kitchen Cabinet Manufacturers Association (KCMA). This eco-friendly designation required Grabill to meet several stringent guidelines for green building. This includes:
100% of its particle board, MDF, and plywood (used for internal shelving and cabinet structures) meets the formaldehyde emissions level of the California Air Resources Compwood ATCM. This means those products produce lower than normal levels of formaldehyde, which

improves your home's indoor air quality

.


The majority of their particle board materials are made from 100% recycled or recovered fiber content.


All cabinet hardwoods, softwoods and plywood are purchased from manufacturers who are certified as sustainable foresters.
Kitchens & Baths Unlimited is proud to be a Grabill cabinetry vendor. We've used their products to design and built Chicago custom cabinets for more than 30 years.
Are you interested in designing a kitchen with cabinetry that has a legacy of style, quality and longevity? Contact the design team at Kitchens & Baths Unlimited and we will show you all that Grabill Cabinets have to offer.