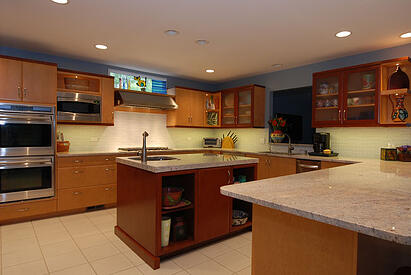 Recently, we had the pleasure of designing a kitchen remodel in Highland Park for a catering chef. Talk about the opportunity to design a kitchen that will be used as a kitchen! Chef's work with a militaristic precision, meaning every square inch of the space must be functional and durable. From corner drawers to custom-designed drawer inserts, this kitchen has it all.
The Overall View for a Chef's Kitchen Remodel in Highland Park
Besides durability and functionality, here were some of the goals our client had for their kitchen:
Cook as comfortably for 4 as for 40
Space to roll out ample amounts of dough on a granite countertop
Room to seat adorable grandchildren or drink a cup of coffee with the paper in the morning
Buffet space for holiday and family gatherings (everyone heads to the chef's house, of course...)
Trade junk drawer for organized message center
Now, we'll tell you how we did it.
Custom Cabinets Provide the Framework
The cabinets are the bones of the kitchen. We selected frameless cabinets because they allow for more storage space (every inch counts!) and yield a more streamlined look with minimal door and drawer margins. These custom cabinets highland park have an exotic Birdseye Maple veneer mixed with darker cherry stained island cabinetry and accents, creating what we call a two-tone kitchen. Both of these woods are offered in a variety of stain options.
Built-in Appliances do Much of the Work
A good kitchen relies on appliances to store, maintain temperature, cook, and clean. Since our clients had the space, they opted for a built-in Sub Zero all-refrigerator and separate all-freezer. You can augment this with under-counter refrigeration in the island for produce and commonly prepped food items. Many clients use their kitchen remodel as an opportunity to transfer the old fridge into a garage or lower-level as backup.
Our clients are eco-conscious so they selected a trash compactor at the right of the sink and used dishwasher drawers, which allow for smaller loads to be run independently of one another.
Open-cabinetry and Shelving to Display Decorative Items
This kitchen remodel in Highland Park had standard 8-foot ceilings so we stopped the cabinets at 7-feet to keep the open feeling an allow room for displaying items above. We featured open shelving and cubby areas, which lets display items provide extra colors that really make a room pop. LED puck lighting adds to the drama.
Peninsula or Island? That is the Question.
Or, how about both? If you have an open floor plan, you can implement a central kitchen island for food prep and additional storage and create a peninsula extension that doesn't impede the flow of kitchen traffic but can accommodate grandchildren doing homework, morning coffee rituals and can serve as the buffet station for large gatherings. Replace your junk drawer with a message center. We removed an extra closet by the garage to accommodate a modern message center, complete with a framed cork board to match the the kitchen island, as well as space to file bills, keep lists, and display the grandchildren's artwork. It also functions as a recharging and docking station for the homeowners gadgets.
Are you planning a kitchen remodel in Highland Park? Contact Kitchens & Baths Unlimited to make sure your project is designed with a purpose so every detail accommodates both your taste and your lifestyle.