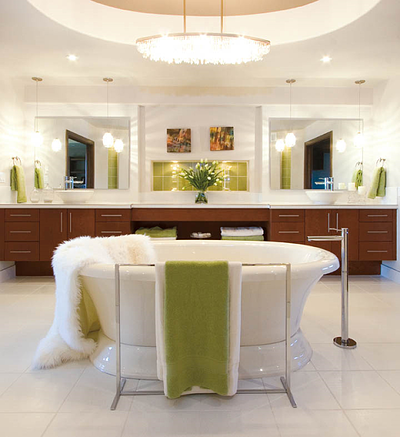 Bathroom remodeling requires extra special attention. Unlike a new construction project, where budget is the major constraint, a remodel will have a range of parameters that alter the fixtures and furnishings available for the design. The size and shape of a space, existing architecture and plumbing fixtures - as well as budget - will affect what can and can't be done. The type of bathtub you choose for your remodel will also be dependent on these design factors.
Here are some of the considerations when deciding between a conventional bathtub or a soaker tub for your bathroom remodel.
How big is the space?
If tearing out a wall or two isn't an option, then you'll have very specific dimensions to work with. This may narrow your bathtub options. In most cases, a conventional tub is the best use of a small space because they are available in standard, five-foot measurements. That being said, small Japanese-style soaker tubs are increasingly popular in apartment, condominium, and other conservatively-sized living spaces.
If you have a larger bathroom, your bathtub options are much wider. You can choose large soaker tubs for the ultimate luxurious bath experience. You can add features like water heating devices, bubbling jets, as well as lights and sound for added appeal.
Do you need to include a shower?
If your bathroom needs to include both a tub and a shower, a conventional bath tub may be your first choice. They can be purchased individually or as a all-in-one bathtub/surround kit. If the tub stands alone, your contractor will tile the walls around it to protect them from water damage. You will have the option of a shower door or a curtain to complete the tub/shower enclosure.
Soaker tubs are usually not attached to a shower and are bath features in their own right. They may be side-by-side with the shower or in a completely separate area, depending on the size and layout of your bathroom space.
What is your budget?
If you have a minimal budget, a conventional tub will be your most cost-effective option. They are available in affordable acrylic options that replicate the enamel on cast iron or steel tubs and come in a wide range of colors and finishes. You can also choose a heavier duty tub, made from cast iron or steel, that fits into an alcove and can be used for everything from bathing the little ones to washing the family dog.
Those with a higher budget may opt for soaker tubs, which are more expensive but available in a range of sizes, shapes, and finishes. They can be stand-alone, built into an alcove or niche and can be placed underneath a beautiful picture window.
Once you have answered these questions, you will have a better idea of whether a conventional or soaker tub is the best option for your bathroom remodel. Other factors include things like:
Whether or not the home is a rental.
Will children be using the tub regularly?
Will the tub need to fit in a uniquely shaped niche?
Consider working with a bathroom design professional to avoid common bathroom remodel mistakes and select a bathtub and fixtures that work well with your architecture and design.