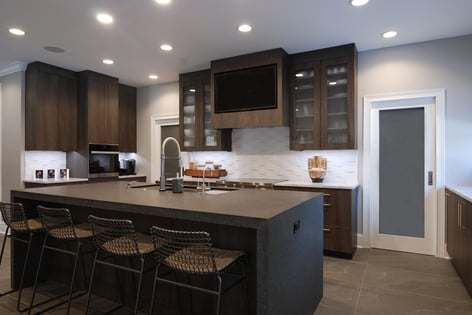 Some of the most important decisions you'll make when remodeling your kitchen involve cabinet design and style - and that includes whether the cabinets will be inset, framed, or frameless.
Cabinet design often drives the bulk of your other kitchen design choices, so it's important to understand how cabinet installation - especially the set of the cabinets with respect to their frames and your countertop - affects the overall look of a kitchen.
If you're still in the midst of cabinet selections, read our post on how to identify quality cabinets for your Chicago kitchen renovation to help you move through your choices.
Cabinet Framing (or lack thereof) Affects Cabinet Space and Dimensions
Whether you like framed traditional kitchen cabinets, the sleek and modern look of frameless cabinets, or the unique style of inset cabinets, knowing the details of cabinet design is essential to your kitchen renovation, helping you make more informed decisions when meeting with kitchen design and build teams.
What's The Difference Between Cabinet Styles?
As mentioned, cabinets come in three basic fabrication styles: inset, framed, and frameless.
Inset Cabinets
Inset cabinets are a more rustic, historic form of cabinet making where the door fits flush with the face frame. That being said, this style is making a contemporary comeback as homeowners today appreciate cabinets that look traditional, but are also unique.
Inset cabinets are an excellent choice for customized, high-end cabinet design that gives kitchens a sense of old-world warmth and classic charm. Be careful with the depth of the inset wall cabinets as sometimes an over-sized dinner plate won't fit.
If you're someone who prefers ample, interior cabinet space, inset may not be the best option. Or, you may opt to use frameless cabinets in the island, using that interior space to store larger serving platters, cookware, and the like - while keeping inset cabinets to the perimeter. Similarly, those with smaller kitchens may want options that enhance - rather than limit - storage space.
If you like the idea of inset cabinets but storage space is of importance to you, bring this up with your kitchen designer.
Pros of inset cabinets:
Trendy and attractive
Unique
Offer an 18th/19th century, traditional elegance
Cons of inset cabinetry:
Most limited interior cabinet space
Require the most maintenance because doors/drawers inevitably require realignment
Prone to warping and fluctuations in humidity
Read, Chicago Custom Cabinets: Inset Cabinet Design , to learn more.
Framed Cabinet Design
Framed cabinets get their name from the "face frame" that makes up the front of the cabinet. If you think of your cabinets as a four-sided box, the face frame is the front-facing side: it isn't removed entirely, but enough of the frame is cut out to allow access into the cabinet.
Framed cabinets offer additional strength over other cabinet styles and are a popular style for base cabinets that need to support the weight of heavy countertops. However, framed cabinets give up space for this added stability, and many homeowners don't want to sacrifice that space.
Pros of framed cabinets:
Cons of framed cabinetry:
Less storage than frameless (due to narrower door/drawer openings)
More expensive due to increased materials (but again, this all depends on wood type, stain or painted, etc.)
Visit our post, Chicago Custom Cabinets: Framed Cabinet Design, to read more about this option.
Frameless Cabinet Design
Frameless cabinets are a more modern style of cabinetry that benefit from newer hinge designs and features. With frameless cabinets, there is no face frame. Hinges for the doors are installed directly into the sides of the cabinet wall which provides a larger opening.
Frameless cabinet doors tend to have smaller gaps or door margins and lay flush against the cabinet body. Although frameless cabinets lend themselves to more contemporary designs, you can certainly use traditional finishing with frameless hardware for a classic look with modern functionality. In addition, a frameless cabinet maximizes storage potential more than any other cabinet style for all homeowners.


Pros of frameless cabinets:
Provides the most ample storage options
Offers a nice blend of modernity and classic (transitional!)
Just as durable as framed cabinetry (when built/installed by custom cabinet builders)


Cons of frameless cabinetry:
Can be less sturdy than framed cabinets if boxes are constructed from a low quailty manufacturer and/or you use a less professional installer.
Visit, Chicago Custom Cabinet: Frameless Cabinet Design, for more details.
Which Style is Best for Me?
Generally speaking, cabinet style does not dictate the style of the room, but it makes an impact.
Based on the functionality you need from your cabinets and the design choices you would like for your kitchen remodel, frameless cabinets might be more appealing as you maximize storage going this route. You can have a traditional finish with cabinets, and still enjoy the modern luxury of frameless design.
You can also design a more modern kitchen with simple lines and use inset cabinets to create a seamless, minimalist cabinet face. Or, use inset cabinet style to create a more transitional look, combining streamlined alignment and more decorative door selections.
Framed cabinets are considered more traditional, but that's certainly not the case when they're built using flat-panel door styles, or shaker-style doors with classic, transitional appeal.
These three cabinet styles have their own pros and cons, but they rarely limit the design possibilities for your final kitchen design.
Work Through the Options with a High-End Chicago Kitchen Design/Build Team
The custom cabinetry experts here at Kitchens & Baths Unlimited serve the greater Chicago, Illinois area with years of remodeling and design expertise. We want to make sure that you love your cabinets for years to come - not only for their looks, but also for their functional use.
From the moment you come to us, we will work with you to ensure that you fully understand the many differences in cabinet styles and types available. We can definitely help you choose the style that best compliments your finished design. Contact us online to schedule a consultation, or give us a call directly at 847-729-1212 for more immediate assistance.