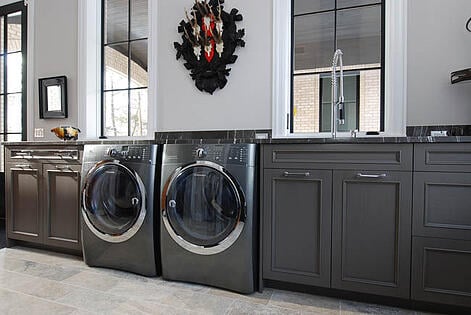 The kitchen is unarguably one of the most used, lived-in and loved rooms in the home, but there's another room that does a whole lot of work (with your help) to keep the family healthy, happy and looking their best: the laundry room.
Laundry rooms are often functional- period - lacking color, design and personality. This doesn't have to be the case, though. It takes hours to sort, launder, dry, fold and re-organize laundry, so why not do the bulk of that in a nicely designed space? Plus, with existing plumbing and electricity, you can re-think the purpose of your laundry room and see if it couldn't be more multi-purpose.
It's Time for a 2016 Chicago Laundry Room Remodel
If your laundry room is the obvious answer to the "One-of-These-Rooms-is-Not-Like-the-Other" game, it's time to consider a Chicago laundry room remodel. The following trends will help you re-think how your laundry room space is used, as well how it could be used with the right design.
Create a Pet Zone. We would never advocate designing or remodeling a home solely for your pets, but we certainly think that pet-friendly remodeling ideas are worth considering if you're a serial pet owner. They're good for your pet but, more importantly, they make your life easier and more convenient. The addition of a pet washing station (also great for muddy kids, post-gardening clean-up, etc.), feeding areas, dog bed cubbies, and/or built-in kennels keep pets, fur, accidents, and clean-ups contained within a single, durable and waterproof space.


Fold-down Drying Racks. So many of the things we wash are "hand-wash" only or require drip-drying. Drying racks are often cumbersome and they take time to get out, set up, and then put away, leading to "dryer cheaters." Sound familiar? Save that laundry and your delicates by installing fold down drying racks. They are flush with the wall most of the time, easy to pull down and use when needed. It's a perfect solution. Place them high enough on the wall that you can hang clothes on hangers if need be - a great "no-iron-no-wrinkle- solution for dryer-friendly clothes.


Add Sunlight. Often, the laundry room has a dark, cave-like atmosphere. If yours doesn't have a window, ask your design-build team if you can add one. Even a small, upper-, horizontal window can make a big difference, infusing the room with clean, bright, natural light.


Consider Cubbies. Have a small laundry room? Have items you use all the time (like an iron, steamer, extra laundry baskets, pet supplies, etc.)? Open cubbies are a smart solution. In smaller rooms, they open up the space while still providing contained spaces for organization. Ease of access, ability to clean and the lack of doors/drawers to open and close is another bonus.


Pull-Out Shelves. Make laundry room cabinetry as functional and organized as kitchen cabinetry by using pull-out shelves and laundry-room specific closet organizers so there isn't an inch wasted.
Visit Kitchens & Baths Unlimited for more ideas to optimize your Chicago laundry room remodel.