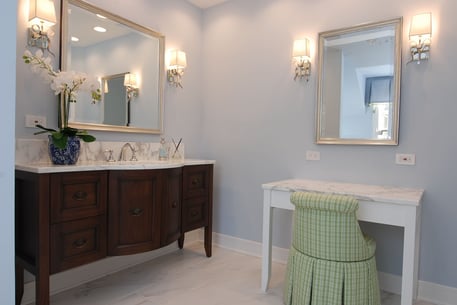 Choosing the best designer and contractor for your Chicago bathroom remodel is the most important step in the remodeling equation. Their work should be exemplary, meeting or exceeding your expectations.
To experience that level of customer satisfaction means conducting an interview of sorts.
5 Questions to Ask Potential Bathroom Remodel Contractors
For many, this is the beginning of a long-term relationship because – if you make the right choice – you have a trusted design-build partner for life!
1. Are you licensed, bonded, and insured?
Not only should you ask this question, request to see proof.
Read, Choosing a Chicago Home Remodeling Contractor: What are the Red Flags, to learn more about what you don't want to hear, see, or feel while interviewing prospective bathroom remodelers.


2. Can we see examples from your recent portfolio?
Online portfolios are great, but they can also be "faked." Not only that, every design-build team has their own style, so you want to make sure that the recent work reflected in their recent bathroom remodeling portfolio resonates with you.
Recent is important because the company may have had wonderful contractors five- or ten years ago – but who no longer work for them. Viewing recent projects is a better indicator that you'll benefit from the same high-quality production.


3. Do you design in-house?
This is huge. Hiring a separate designer and builder means way more work, communication, and tracking on your part. It's much better to work with a design-build team – combining professional design experience with superb craftsmanship.
Read, Is Your Chicago Kitchen-Bath Remodeler "Just" a Remodeler, to learn more about the difference.


4. How many projects do you run at once, and would be running mine?
There's nothing wrong with a successful Chicagoland bathroom remodeler who runs multiple projects at once. However, they need to have designated project managers and/or supervisors for each job. Remember to always treat vague or unclear answers as red flags!
Your design-build team should clearly state who will be running the project, who your go-to liaison is whenever you have questions, and they should be able to provide a tentative timeline of what will happen when – from start to finish.
5. Do you provide an itemized bid?
Itemized bids are essential. Not only do they give you a frame of reference for "what's what" in terms of the materials and labor charges, itemized bids also allow you to compare apples-to-apples when deciding between multiple contractors.
Itemized comparisons also help you to sniff out a rat. For example, you may see that two of the three prospective contractors have similar estimates, while the third comes in notably low. That lower dollar amount may seem exciting at first, but beware. Low-ball bids are a definite red flag - while similar, higher bids are typically legitimate.


6. How long have you been in business here in Chicagoland?
Everyone has to start somewhere, but you don't want to trust your high-end, spa-like master bath remodel to a newbie on the block. There is typically a direct correlation between the length of time a bathroom design-build team has been in business and the quality of their work.
The team at Kitchens & Baths Unlimited has designed and built high-end bathroom and kitchen remodels for over 35 years. We'll answer all of your questions honestly, directly, and in detail. Contact us to schedule a design consultation with professionals who have stood the test of time.