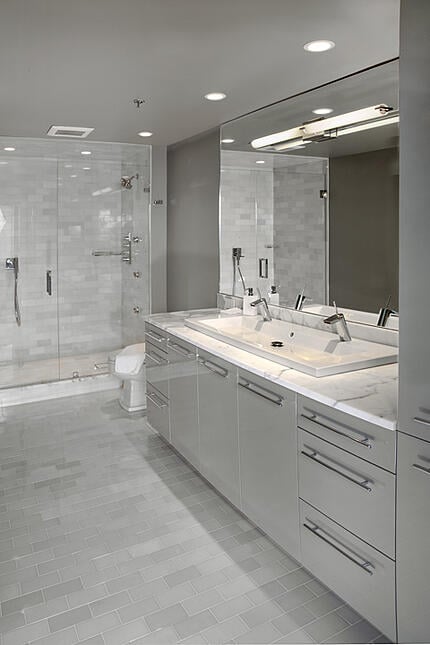 One of the best ways to go about any living space re-design is to brainstorm big and then whittle those dreams into reality. The more you have to bring to your designer from the outset, the better idea your design and build team will have of what you want. And, while some of your grandiose dreaming may be left out of the design plans this time around, you'd be amazed at how designers can incorporate elements of your big dreams into the final products.
Chicago Bath Design Ideas For Your Master Bathroom Renovation
The steam shower.

Install a steam shower

and we promise you'll be thanking us down the road. In many cases, clients find that the addition of a steam shower will eliminate the need for a large soak tub. Stop and think about how often you use your bath. Once a week? Once a month? Once a quarter? If either of the latter two answers are more realistic, you'll find that a well-designed steam shower with comfortable seating and lounging options, and multiple, versatile shower heads, will be a much more efficient use of your bathroom space.


Heated flooring. Heated flooring is an amazing addition to any bathroom design. It's affordable, energy efficient and will transform your bathroom experience. Not only does

heated flooring feel better on your feet

- whether you've just stepped out of your bathtub or steam shower - it keeps your bathroom at a constant temperature, making those shivery, late winter's night bathroom visits a thing of the past.


Accent on the flooring. Master bathroom floors are getting more attention than ever before now that spa-like bathroom designs are becoming the norm. Think about ways you can enhance the overall effect of your master bathroom flooring. Examples include glass accent tiles, wood flooring or gorgeous wood inlay between your tiles, river stones, unique ceramic or artisan tiles - all are an option.


Wall-hung vanity units. Reconsider whether or not you need a traditional floor-installed vanity. In the past, these boxy vanities were designed to hide the plumbing underneath. Now,

we have more ingenious methods for hiding the plumbing

in interior wall spaces, making this a non-issue. Clients are often under the assumption that floor-installed vanities have more storage space. In fact, when you take the plumbing works into consideration, this isn't really the case. Wall-hung vanities will give you the same amount of storage and can open up the floor space, making your bathroom appear larger than it is.


Add the right electrical/technological connectors. Is your bathroom a space where you relax and spend a little quiet time? Then consider adding the little details that will make it possible to enjoy your favorite television shows or gadgets. These include things like cable and electrical outlets, charging stations, HD TVs that are embedded in the medicine cabinet or mirror, programmable shower controls and more.
Looking for unique Chicago master bath design ideas for your remodel? Schedule a consultation with the design team at Kitchens and Baths Unlimited.