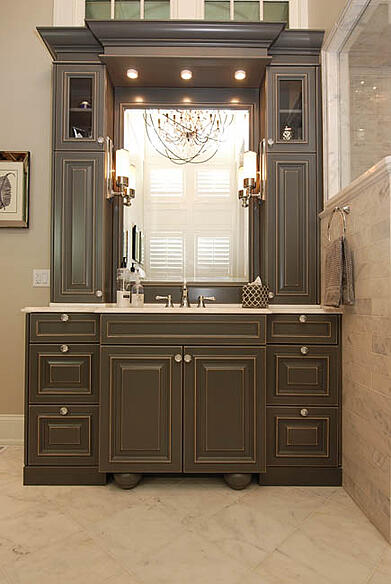 Frameless cabinets are all the rage right now due to their clean look and tendency to blend with both modern and contemporary kitchen designs. There is one exception to this rule, however, and that is inset cabinetry.
The Pros and Cons of Chicago Custom Inset Cabinets
For a more detailed description of inset cabinetry, read Chicago Custom Cabinets: Inset Cabinet design. Originally popularized in the 18th and 19th centuries, these cabinets are built like traditional framed cabinets but the doors are inset (hence the name) so they are flush with the cabinet frames, rather than laying on top of them.
The pros of inset cabinets include;
Looking fantastic. Originally, frameless cabinets were not as durable as their framed cabinets (modern construction innovation has changed this). Thus, setting the cabinet doors flush with the frame yielded the streamlined look of frameless cabinets without sacrificing durability.
Working with any style. Inset cabinets work wonderfully with any style. Because they are built on a frame, ornate traditional doors look right at home. Similarly, transitional or contemporary shaker or flat panel doors will look great too.
Enjoying completely custom cabinets. There's no semi- or stock-version of inset cabinets. If there was, it would fall apart. In order for doors and drawers to sit square, and for hinges and fasteners to meet the builder's warranty, cabinets need to be built with the highest quality materials, attention, and skill. If you have beautiful inset cabinets, it means you're enjoying all of the perks associated with full Chicago custom cabinets.
Of course, there are two sides to every story and no situation is perfect. Therefore, it's only fair that we share the other side of the inset cabinet story.
Some of the cons of inset cabinets include:
A higher price tag. That high-quality, custom cabinet craftsmanship we shared as a "Pro" above also means that inset cabinets come with a premium price tag. In most cases, you'll need to budget about 20% to 40% more than semi-custom cabinets and significantly more than stock cabinetry options.
Reduced storage. Because the doors are inset, you will lose a little bit of storage in both your cabinets and your drawers. With today's innovations in cabinet layout and customized storage options, this doesn't create much of a problem but it may be make a difference to you if you have a smaller kitchen.
Higher maintenance requirements. The highest quality inset cabinets in the world are still going to require a bit of maintenance here and there throughout their lifetime. Houses settle, the earth shifts and constant wear and tear will incrementally alter how the doors and drawers "sit" in those frames. Most homeowners will require a professional carpenter to reset the doors and drawers from time to time in order to maintain that clean, tight look. Selecting a reputable cabinet maker who uses the highest-quality materials is a good way to mitigate this "con."
Schedule a consultation at Kitchens & Baths Unlimited to learn more about inset custom cabinetry.