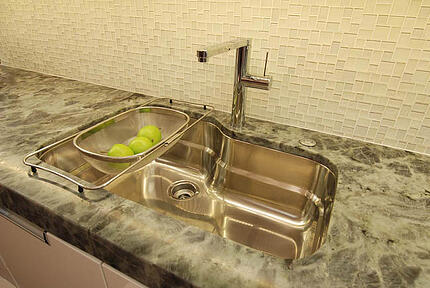 The first priorities for your North Shore kitchen remodeling project are the layout, cabinets and countertops. Those take care of your kitchen's functionality as well as the first big, visual "shabangs" you and guests view when entering your kitchen space. Once those items are taken care of, you can make decisions about the next tier on the design hierarchy - like faucets and the kitchen sink.
While looks matter, function trumps style in this department so you want to make choices that are weighted more by how you use these items than what they look like. You'll always be able to find attractive options that suit your family's needs and usage requirements. It doesn't always work the other way around. Here are considerations for choosing the right kitchen faucet and sink.
3 Tips for Choosing the Right Kitchen Faucet and Sink
Get social. Honestly, the best way to learn what you want from your kitchen faucet and sink is to start using other peoples', or begin conversations about what your friends and family like - or don't - about their own. You'll hear lots of stories of people who "loved the way something looked" and then don't love how it behaves in their home. This valuable field research will help you create your list of "preferred features".
Countertop materials. You will want to take your countertop materials into consideration. If you are in love with solid surface countertops (no tile/grout) and will be opting for granite or engineered stones, stainless steel sinks are a nice option because they are easily undermounted.
Enamel-coated cast iron sinks were the standard sink option for decades. While they disappeared for a while amidst a stainless steel craze, they are making a comeback - especially in the realm of farmhouse sinks.
If you're going with Corian, soapstone or even marble countertops, you can have a sink made from the same material, which makes for a very integrated look. If you have young children, however (or if you, yourself, are particularly hard on sinks), be careful because these options aren't as durable as others.
Faucet function. We recommend choosing your sink before your faucet, only because you want to choose a faucet that can be mounted compatibly. Now you need to think about faucet function and your family's lifestyle.
Do you wash tall pots/pans/pitchers? Make sure your faucet has plenty of clearance. Even the pull out faucets can be irritating if base of the faucet's neck isn't quite high enough.


Do you have kids? Single lever handles are usually the easiest for kids to manage and the best means of ensuring the water is turned all the way off when they're finished. Levers are also the preferred option for accessible kitchen designs.


Do you love to clean? If cleaning really isn't your thing, the less faucet the better. This is another reason to opt for lever faucets rather than the pretty ones with fancy knobs that are more difficult to clean.